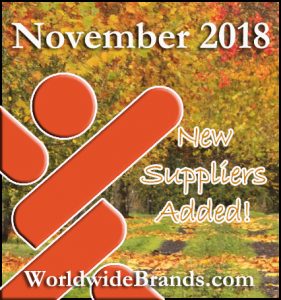 This is just a quick note to let you know what we added to the Worldwide Brands Directory of Certified Wholesalers for the month of November 2018 for our members!
We added suppliers, that together, offer a total SKU count of over 12,000 SKUS!
The newly added suppliers offer:
Wholesale Spray Nozzles
Wholesale Custom Bridal Robes
Wholesale Gemstone Smoking Pipes
Wholesale Silicone Wedding Bands
Wholesale LED Flashlights
Wholesale Men's Activewear
Wholesale CBD Vape Pens
Wholesale Optical Cleaning Tools
Wholesale Private Label Supplements
Wholesale Organic Agave Sweeteners
Wholesale Artwear Backpacks
Wholesale Essential Oils
Wholesale Roasted Nuts
Wholesale Baking Supplies
Wholesale Greeting Cards
Wholesale Men's Fashion Apparel
Wholesale Wireless Charging Pads
Wholesale Men's Shoes
Wholesale Streetwear
Wholesale Dirty Diaper Waste Bags
…and more!
Our members at WorldwideBrands.com, can setup notifications when we add new suppliers to categories that interest you. So take a look in your My Account area to set those up and then every time you login, you can see the newly added suppliers assigned to that category on the right side of the Directory.
If you are not a member yet, check us out today!