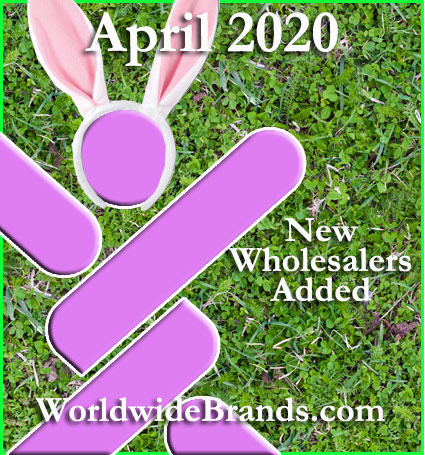 Finding new wholesale suppliers for our members is what we do! That's why we contact hundreds a day looking for the best wholesalers to certify and add to the Wholesaler & Dropshipper Directory.
This is just a quick note to let you know what we added to the Worldwide Brands Directory of Certified Wholesalers for the month of April 2020 for our members!
We added suppliers, that together, offer a total SKU count of over 7500 products!
The newly added suppliers offer:

Wholesale CBD Oils
Wholesale Tapestry Bags
Wholesale Herbal Tinctures
Wholesale Canvas Bags
Wholesale Projection Screens
Wholesale Organic Chocolate Bars
Wholesale Baby Shoes
Wholesale Fashion Clothing
Wholesale Food Testing Devices
Wholesale Networking Products
Wholesale Men's Beard Care
Wholesale Gourmet Coffee
Wholesale Business Backpacks
Wholesale Birch Home Decor
Wholesale Face Masks
Wholesale Men's Fashion Clothing
Wholesale Streetwear
Wholesale Garden Decor
Wholesale TV Mounts
Wholesale Instrument Cable Caps
Wholesale Cable Organizers
Wholesale Women's Lingerie
…and more!
If you are a member, Login today, to check out the newest additions.
Not a member yet? What are you waiting for?