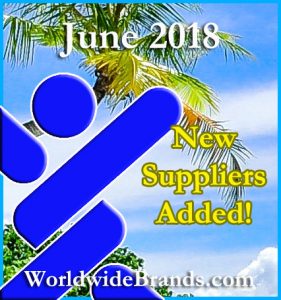 WorldwideBrands.com adds news wholesale suppliers to the Directory every business day! This is just a quick note to let you know what we added to the Worldwide Brands Directory of Certified Wholesalers for the month of June 2018 for our members!
We added suppliers, that together, offer a total SKU count of over 4,000 SKUS!
The newly added suppliers offer:
Wholesale Fishing Supplies
Wholesale Women's Clothing
Wholesale Private Label Jewelry
Wholesale Weightlifting Products
Wholesale Women's Activewear
Wholesale Baby Clothing
Wholeslae Handcrafted Jewelry
Wholesale Canvas Art Prints
Wholesale Natural Handmade Soaps
Wholesale Firearms
Wholesale Baby Pillows
Wholesale Firearm Accessories
Wholesale Resort Wear
Wholesale Women's Apparel
Wholesale Night Vision Optics
Wholesale Crystal Home Decor
Wholesale Sporting Rifles
Wholesale Bulletproof Backpack Panels
Wholesale Hunting Knives
Wholesale Nursery Door Silencers
Wholesale Baby Sunglasses
Wholesale Sport Headgear
…and more!
Our members at WorldwideBrands.com, can setup notifications when we add new suppliers to categories that interest you. So take a look in your My Account area to set those up and then every time you login, you can see the newly added suppliers assigned to that category on the right side of the Directory.
If you are not a member yet, check us out today!