Halloween…it's that time of year again when they say the veil is thinnest between the good and evil forces of the world (oooohhh…scary!).
Whether Halloween is your bag of candy or it's just another day to you, there are some TRULY scary forces at work in the Ecommerce wholesale industry that would curdle the blood of the most experienced tricksters. These forces work to damage the success of your ECommerce business EVERY DAY of the year, not just on Halloween.
So we thought we'd take this opportunity to show you how to get the TREAT for your EBiz this Halloween, instead of all the TRICKS.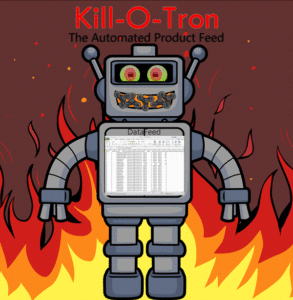 Here's Day 1: "Kill-O-Tron The Automated Product Feed"
"Kill-O-Tron The Automated Product Feed" lurks in the shadows of ECommerce. Like so many evil things hiding in ECommerce, it's a Trickster; it makes everything look easy when it comes to sourcing products for your business, when in reality it sucks the life out of your business in several ways (bwahahahahaha!)
Being a Trickster, it hides behind many different names that seem benign and harmless, even inviting. It's promoted by it's minions as a solution for EBiz, but those evil minions know it's just the opposite.
The only way to truly identify Kill-O-Tron in it's many forms and names is to understand how it WORKS. We'll start by talking about what the minions say that it DOES.
They say "Just use this App" or "Just connect to this system" that automatically populates products into your web site or online listings. Dozens, hundreds or even thousands of products you can sell online that AUTOMATICALLY get loaded into your web site or your online listings. You don't have to upload the products, you don't have to create descriptions, you don't have to do ANYTHING; all these products will automatically show up and be ready to sell, and they'll automatically update on a regular basis.
Wait…what? There LOTS of problems with that concept. However, just TWO of them should be enough to scare you away from Automated Product Feeds FOREVER.
LET'S TALK ABOUT THOSE TWO MAJOR PROBLEMS:
1. An Automated Product Feed loads tons of products into your EBiz WITHOUT any kind of Market Research. These feeds can push some decent products into your EBiz, but they also push tons of random products that the wholesalers and manufacturers SIMPLY WANT TO GET RID OF. So, they figure, why not use your EBiz as a dumping ground for things that they can't sell otherwise?
No matter that you won't sell them either; at least the junk products get exposure and SOME of them will sell, so it's a partial win for the minions. But not for YOU.
2. Ever head of a little thing called Search Engine Optimization, or SEO for short? An important part of SEO is the wording and phrasing of your Product Descriptions. The search engines read through your Product Descriptions, and that has a lot to do with whether or not your EBiz will rank well in those search engines. Savvy EBiz Owners always REWRITE their Product Decsriptions to work well for SEO, because the standard Product Descriptions that come from manufacturers and wholesalers are LOUSY at SEO.
When you use an Automated Product Feed, the LOUSY Product Descriptions get dumped into your EBiz product pages. Can you rewrite them? Sometimes, but not always. It depends on what version of Kill-O-Tron The Automated Product Feed the minions sell you.
However, even if your version of Kill-O-Tron allows you to rewrite your Product Descriptions, it JUST DOESN'T MATTER. You can rewrite dozens, hundreds or thousands (if you have a couple of years to do it) of those Product Decriptions, but guess what happens next?
Kill-O-Tron The Automated Product Feed UPDATES every week or so. Every time it updates, ALL YOUR PRODUCT DESCRIPTIONS AUTOMATICALLY GO BACK TO WHAT THEY WERE BEFORE YOU RE-WROTE THEM!!!
So you can NEVER maintain an EBiz that ranks well in the search engines, because all your hard work in SEO gets completely wiped out and reset to LOUSY every few days!
SO WHAT DO YOU DO TO AVOID THIS BIZ-KILLER?
Never ever ever EVER use an "automated feed" or any other kind of automated process that puts products in your site or on your listings. Don't believe the evil minions that are looking to trick you into becoming a dumping ground for random lousiness that will doom your EBiz from the start.
HOW DO YOU DO IT RIGHT?
If you want to load products in your EBiz that sell, you start with real wholesale suppliers, you research your products, you make sure that they are all part of the same 'niche', and you load them and maintain them yourself. It's the ONLY way to do it, no matter how many masked evildoers show up at your door and try to convince you otherwise.
WHERE DO YOU FIND THE TREAT, INSTEAD OF THE TRICKS?
For over 20 years, Worldwide Brands has been the Industry Standard for REAL wholesale and drop shipping products and suppliers. In fact, every Halloween, all the Tricksters in this business put on their Worldwide Brands Masks and start ringing doorbells, PRETENDING to do what we do.
But they don't. They charge monthly fees, hidden costs, list substandard and often fake wholesalers, and always have an attic full of 10 year old bad candy to sell you later.