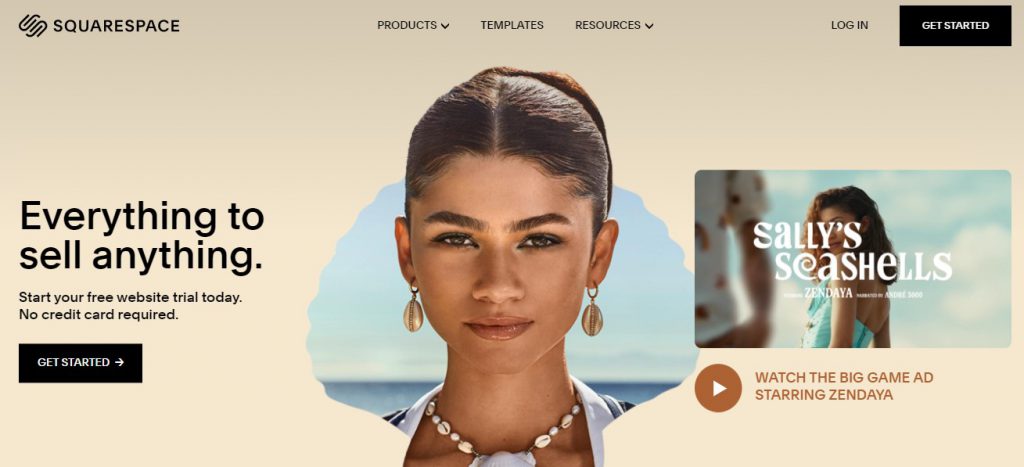 Squarespace Review, Last updated 1/20/2023 – Squarespace is the best value for your money. Amazing templates with emphasis on your products (where it should be). Squarespace is perfect for any size business from niche stores to large inventory retailers. They are our number #1 recommendation based on ease of use but also because the products are the spotlight which is perfect for niche stores.
Squarespace Review:
Squarespace is great for…
New, ecommerce stores. Squarespace is great for small niche stores. Plus it's scalable for those offering large amounts of inventory.
Retailers that sell through other platforms & Offline (Instagram, Etsy, eBay, etc) as well as through your own store. If you already have a strong presence on other platforms, Squarespace is a great choice for multi-channel selling. Plus with their merchant processing Square, you can take your sales OFFLINE!
Multiple Sites for retailers that want to create several niche sites under the same hosting provider. Niche sites perform better and you can market them easier. Squarespace is cost effective enough for you to do that!
We don't recommend Squarespace for…
Large Inventory Sellers. If you have a lot of products or a lot of variance to your products, then Squarespace might not the best place for that. While the inventory is scalable, their templates are very product focused and best for niche stores in our opinion. So we recommend Shopify instead.
A seller that wants a robust & feature heavy site. You get a lot of creative control with a Squarespace website, but if you like a ton of add-ons and plug-ins to make a feature heavy site, then we would recommend Shopify instead.
Squarespace Pros and Cons
PROS:
Beautiful product focused website templates.
High qualify site features.
Great analytics tools
You can sell OFFLINE too and still sync everything with your store.
CONS:
A smaller app add on store. Not that big of a deal though! Remember; plugins and apps can crash or have issues. So the more you put on your site, the more you have to monitor to make sure it's working right.
Just like other platforms, there is a learning curve. But there is a lot of support and help available!
Squarespace is our number one choice for our members because we highly recommend smaller niche stores!
---
Want to learn more about Niche Stores?
Check out these other blog posts:
Go Niche! Competing with Big Online Retailers– Read it here
5 Reasons Why a Niche Store Should be Considered– Read it here