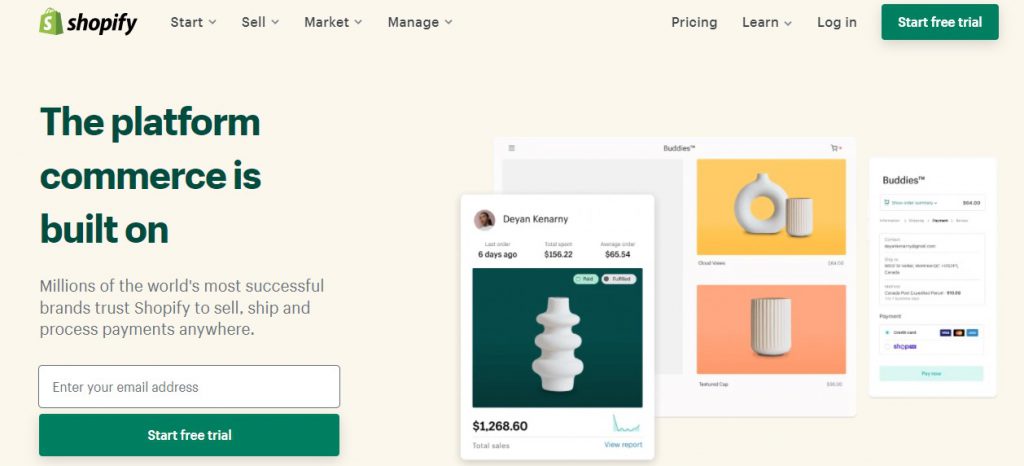 Shopify review, last updated 1/20/2023 – Shopify is one of the best ecommerce platforms today and is the world's popular choice for creating an online store. It's beginner friendly, but still robust enough to handle anything a pro throws at it. There are a lot of built in features but also a ton of paid apps available. You can sell directly on your site, multi channel sell and on social media too.
Shopify is great for…
New, ecommerce stores. Shopify is great for newbies and pros. It is beginner friendly but yet scalable for those offering large amounts of inventory.
Retailers that sell through other platforms (Instagram, Etsy, eBay, etc) as well as through your own store. If you already have a strong presence on other platforms, Shopify is a great choice for multi-channel & social media selling.
Already established retailers that have outgrown your current platform or you want more features.
We don't recommend Shopify for…
Small Sellers. If you have a very small niche site with one or two products or you aren't planning on scaling any time soon, then Shopify is not the best place for that. It's because their transaction fees, and app fees start to add up pretty quickly!
A seller with a tight budget. The biggest problem with Shopify is that their fees can start to add up quickly by all the plug ins & other add ons that you might select to make your store work. Yes, there are A LOT of free apps, but there are a lot of paid ones too! These can add up quickly!
Shopify Review Pros and Cons
PROS:
Ideal for larger stores.
A big app market of plugins to add functionality. More than 6000 and 3000+ are FREE!
If you want to multi-channel sell to third parties and social media, they make it EASY
Tons of payment options
24 hour, 7 days a week customer support
CONS:
It's not as easy as other site builders. So their builder / site editor does take some getting used to.
You have to PAY for certain app features that you get for FREE on other platforms.
If you do not use Shopify payments, prepare to get hit with additional transaction fees.
More expensive than you think… things like extra transaction fees, and paying for app features all take away from your profit and just add to your monthly store costs. So be careful!
Shopify is a great option for small to medium sized businesses or if you plan to scale to a larger sized business quickly. If you are new and uncertain and want to start extremely small we recommend Squarespace instead.