PRINT

Dropshipper Interview 1
Author: Tisha Hedges
Last updated: 10/29/2018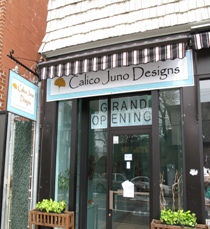 Calico Juno Designs has been a listed supplier with us since 2007! We recently interviewed Bonnie and this is what she had to say:
Tell us about the history of your company:
We started in late 2002, I worked from home for several years before opening up a brick and mortar store in 2009 (with studio inside). I began by just buying some beads, wire and tools and played around making designs. I'm completely self-taught! I experimented and came up with designs I was happy with and then created a website to showcase my jewelry. I then started contacting magazines and retail stores about carrying or featuring our jewelry and it's grown from there! We now have over 350 retailers worldwide and have been featured in many magazines and worn by celebrities.
Give us some more info on your great product lines:
It's all handcrafted gemstone jewelry, in 14K goldfilled and sterling wire, hand-hammered & hand-wired with precious and semi-precious gemstones, pearls, crystals & other stones. We offer earrings, necklaces, bracelets, rings, pendants and more.
How do your products differ from your competitors?
While we do offer some designs that are more common (like the "waterfall" design) we have many designs that are so completely unique and won't be seen anywhere else.
Do you have any advice for online retailers that want to sell your products?
Not only is customer service important, but you have to market, market and market yourself! Many people seem to think that once they open up their online store, that the customers will come running, but that's so not true! You're a needle in a haystack, with so many online stores now, it's vital to get your name out there.
What do you feel are the advantages of selling products online?
You can reach a much larger audience than with a brick and mortar store, but it does take a lot of work!
-------------------------------------------------------------
If you are a member, check out the listing for Calico Juno Designs in the WorldwideBrands.com Directory today!