Wholesale Vendors are just as busy as retailers are during the holidays. But, basically now everyone has a little bit of a breather before looking ahead to what comes next! Valentines Day, Easter, Mother's Day, Summer! Start your planning months and months ahead. Because you need to concentrate on your customers and deliveries versus getting some marketing material out on time.
---
Wholesale Vendors Tip!💡
When holidays are approaching and you are getting your marketing materials ready, simultaneously reach out to your wholesale vendors. You need to ask about any upcoming specials they might offer if they haven't announced them yet. Free shipping? Yes! Add that to your marketing! Longer guarantee? Extended discounts? Because anything like that you can also pass along to your customers to help with sales.
---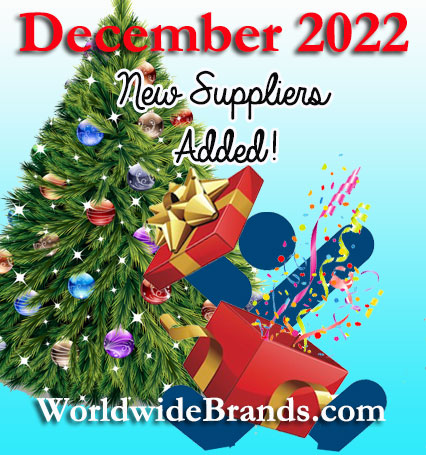 Back to the wholesale companies added in December 2022! HAPPY NEW YEAR! We added suppliers that, all together, have a SKU count of over 5,200 products!
The Newly Added Dropshippers and Wholesalers Offer:
Dropship Motorsport Art Prints
Large Volume Mirrors
Dropship Pet Costumes
Large Volume Dog Toys
Wholesale Natural Pet Foods
Large Volume Guitars
Dropship Dog Apparel
Large Volume Musical Instruments
Dropship MMA Equipment
Wholesale Men's Fashion Clothing
Dropship Boxing Gear
and…

Wholesale Baby Books
Large Volume Handbags
Dropship Yoga Products
Wholesale Private Label Jewelry
Large Volume Restaurant Supplies
Wholesale Crystal Jewelry
Large Volume Furniture
Wholesale Stainless Steel Jewelry
Large Volume Jewelry
Wholesale Greeting Cards
Dropship Pajama Sets
and… 😃
Wholesale Seasonal Cards
Large Volume School Supplies
Dropship Sleepwear
Large Volume Children's Apparel
Wholesale Men's Jeans
Dropship Loungewear
Wholesale Women's Jeans
Large Volume Art Supplies
Wholesale Children's Books
Large Volume Office Supplies
Wholesale Denim Jackets
…and more!
If you are a member, Login today, to check out the newest additions.
Not a member yet? Now is the time to get started!