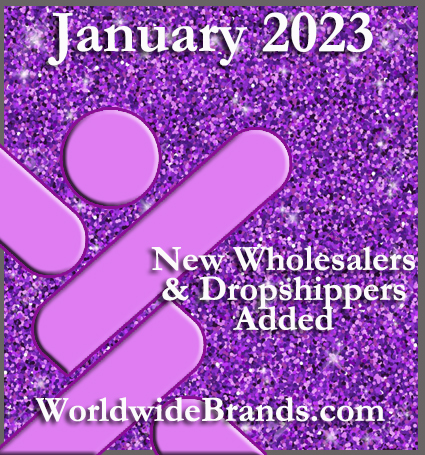 The holidays have settled and now it's time to move forward into 2023! So let's get to what you came here for…What did we add to the Directory in January?
We added suppliers that, all together, have a SKU count of over 8,000 products!
The Newly Added Dropshippers and Wholesalers Offer:
Dropship Hemp Supplements
Wholesale Acne Treatment
Dropship CBD Edibles
Large Volume Cuckoo Clocks
Wholesale Hair Care
Dropship Furniture
Wholesale Dietary Supplements
Dropship CBD Oils
Wholesale Swedish Dish Cloths
Dropship Children's Furniture
Wholesale Natural Pet Treats
Dropship Home Textiles
and…

Wholesale Pet Supplies
Dropship Women's Clothing
Wholesale Acoustic Guitars
Dropship Throw Pillows
Wholesale Musical Instruments
Dropship Montessori Beds
Large Volume Fire Pits
Wholesale Scented Candles
Large Volume Plastic Injection Molding
Wholesale Soy Candles
Large Volume Women's Apparel
Wholesale Dog Shampoo
and… 😃

Dropship Garage Storage Products
Wholesale Dog Grooming Supplies
Dropship Garage Shelving
Wholesale Power Supplies
Dropship Bicycle Racks
Wholesale Battery Chargers
Dropship Bunk Beds
Wholesale Socks
Dropship Home Decor
Wholesale Dog Birthday Cakes
Dropship Gifts
Wholesale Pet Cupcakes
Dropship Backup Cameras
Wholesale Gourmet Dog Treats
Dropship Auto Electronics
…and more!
If you are a member, Login today, to check out the newest additions.
Not a member yet? Now is the time to get started!