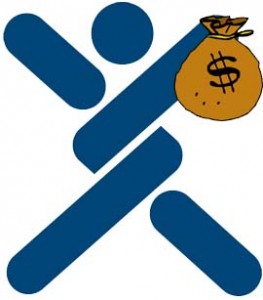 No matter how you collect money on the Internet, there's one thing that you always need…
In order to really succeed online, you must have a legal business. That issue as addressed, along with many others, in our Free EBook, "Starting Your Internet Business Right".
Since that means you'll have a legal business name, you must collect your payment under that business name. Beside the fact that you need to be legal to really succeed online, there's another important thing to remember. You cannot collect money from your customers' credit cards if you don't have a legal business name.
Credit card companies like MasterCard, Visa, American Express and all the others will not deposit money into a personal bank account.
So, you need a Business Bank Account.
A Business Bank Account is simple, really. For our purposes here, it's just like a regular old checking account, only it's in your Business Name. Instead of a checking account under the name Mary Smith, you open a checking account under your business name, like Smith Enterprises, Inc.
In order to do that, you'll need to show your bank that your business is legal. Remember, when you use a Business Bank account, you're able to accept money from people, and write checks to people, under a name that is not your own personal name. The bank has to be sure that if you use a business name like Smith Enterprises, Inc., you really are allowed to legally use that name. So, they'll want to see your business paperwork, like your Corporate Filing papers, or your Fictitious Name or DBA paperwork. They'll want to see your Tax ID, your Social Security card, etc.
Don't let all this scare you off. It's not hard. It's really just like opening a regular personal checking account, only the papers you show them are different. Once you set up your legal business, you'll have the papers the bank needs in order to set this account up for you.
A Business Bank Account is how your money flows back and forth between your business and the rest of the world. The money coming into this account will be your customers' payments for the products you sell, and the money going out of this account will be you paying your business bills or withdrawing money for your own personal use.
So, overall, a Business Bank Account is just like a regular personal checking account, except that it allows you to accept money, and write checks, under your Business name instead of your personal name.
Business Bank Accounts used to be very hard to get. Banks would make you jump through all kinds of hoops. Now, however, with the advent of Ecommerce, so many people are starting home businesses that banks are making this process easier and easier. Here's an example of what it takes to open a Business Bank Account at a small-town bank near us, in Orlando, Florida.
They need to see your Articles of Incorporation (if you have a corporation) or your Business Name paperwork if you've filed a business name that's not incorporated.
They need your Federal Tax ID. This is easy to register for online, and it's free.
They need a Picture ID, like a Driver's License, for each person who will be signing your business checks.
They need a Social Security Card for each person who will be signing checks.
Here in Florida, we have something called a County Occupational License. It's an additional business license from our County that we have to get in order to open a business. Where you are, you may or may not need something like this; it depends on the rules of the State and County you live in. In Florida, we have to show the bank this business license as well.
Now that we know what we need to show the bank, let's talk about the account itself. Just like personal checking accounts, there are certain fees and deposits required for a Business Checking Account. Here's how it works at the bank I'm using as an example:
They require a minimum $100 deposit to open the account.
There's a $13.99 monthly fee for check writing, which allows you to write up to 100 checks per month. If you write more than 100 checks out of this account in a month, it costs you 25 cents for each additional check.
You can place up to 250 separate deposits in the Account each month. When you're doing business online, and collecting credit card payments from my customers, all the credit card money you collect each day generally counts as ONE deposit. That's because of the way collecting credit card money works. It's enough to say that you generally won't make more than 60 or 70 deposits in your account per month. If, however, you do happen to make more than 250 separate deposits in your Business Bank Account in a month, you pay 10 cents for each additional deposit over that 250 deposit limit.
In this particular bank's Business Account, they want you to keep at least $2500 in the account, or you pay a monthly Service Charge of $13.97. Most people just pay the Service Charge, and don't worry about the minimum balance right away. Your business will build up to, and go beyond the point where you can keep that $2500 in the account all the time, but in the beginning, you shouldn't worry about it.
Business Bank Accounts are different, depending on the bank. Some banks still make you jump through hoops. If yours does, try another bank.
Banks also try to get you to sign up for all finds of Small Business "Packages", including Merchant Accounts, etc. You do not need to do that if you don't want to. Many times, you can get the best deal on a Business Bank Account from one place, and the best deal on a Merchant Account somewhere else. You do not have to get everything in one place. Don't let your bank push you into using all their Small Business Services if you can find better deals on some of those services elsewhere.