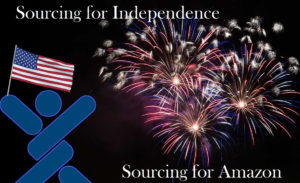 This is the fifth post in our Sourcing for Independence series! Welcome back! Did you miss the others?  Click here to check them out.
This email is about sourcing to sell on Amazon. Amazon is a great selling platform, but just like eBay, it's a competitive price driven marketplace. Even if you don't sell on Amazon, read this anyway for some tips!
I had the honor of visiting the Amazon corporate offices in Seattle many years ago when they first launched their FBA program (Fulfillment by Amazon) and got to meet with department heads and get a walk-through of their new service before they launched it. I had the opportunity to give them some feedback and understand the process and how valuable it could be for online sellers. I still feel that it's a valuable service if you sell on Amazon or even if you don't, because they do offer multi-channel fulfillment. So yes, if you own an online store, you can still use FBA to stock and ship your orders for you.
Amazon has many fulfillment centers around the country and abroad, and their shipping speed is very reliable!
In order to use FBA, you have to buy in bulk, each product has to be registered with Amazon, have its own UPC code/labels, and you have the products shipped to them. They store the products in their fulfillment centers and ship your orders. Some other great things about FBA is that they co-mingle the products. For example, if 50 sellers are selling the same thing, and they get the products from those 50 sellers, they will put them all in the same section or take those products and spread them out to different fulfillment centers because they end up with a lot of them. They also move products around based on demand. For example, if they find that most people that buy swimsuits are in Florida, they will move a large majority of the inventory to a fulfillment center closer to Florida for faster shipping.
The last thing I'm going to say about FBA is that using that service, means you can also add the sought after PRIME tag for free shipping to your products for Prime members.
Now, back to sourcing for Amazon, which was the original purpose of this post. 🙂   Just like eBay, it's harder to compete since it's a price driven market. So you have to find products that many other sellers aren't selling (stay away from products that Amazon offers too) Because not only are you competing with third party sellers on Amazon, you are also competing with Amazon!
So you have to research, research and RESEARCH to find the right products to sell.
Just like eBay, there are many wholesale suppliers that don't allow sales by Amazon sellers. Many brand names sell directly on Amazon, so they won't allow you to sell there and others avoid the platform all together because they feel that it could possibly devalue their products. However, Amazon is a step above eBay in seller quality. They want more business oriented sellers there, and not just garage sale sellers. All products need to be brand new, still in original packaging and everything must be labeled properly. So many wholesale suppliers that don't allow eBay sales will allow Amazon sales.
Again, just like selling on eBay, we recommend that you do price comparison shopping. Check dropshipping wholesale prices, versus light bulk wholesale prices. If the prices are close to the same, go with dropshipping. If the prices are different, even by $5.00 or more, then go with light bulk. Every dollar counts for a small online business! Check into FBA if you decide to go with light bulk so you don't have to invest in the time to ship the products out. Check your costs, because not only do you have to have stocking space, but you have to buy shipping materials too. So the cost of using FBA may seem more reasonable once you factor in the overhead costs you would incur directly if you did it yourself.
We list suppliers in our Directory that work with Amazon sellers! Dropshippers and Light Bulk Suppliers that are willing to work with Amazon sellers. We even list some suppliers that specialize in shipping to FBA.
If you aren't a member yet, we are running an Independence Day Discount, so now is great time to join!
It's a One-time fee for a LIFETIME membership. Check it out here: http://www.worldwidebrands.com
Tags: FBA, fulfillment by amazon, selling products on amazon, sourcing for amazon, using dropshippers on amazon, worldwide brands coupon, worldwide brands discount, worldwidebrands coupon, worldwidebrands discount