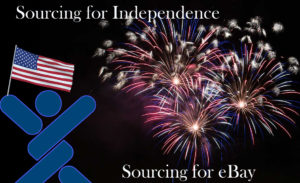 This is the fourth post in our Sourcing for Independence series! Welcome back! Did you miss the others? Click here to check them out.
This one is about turning your eBay seller account from a hobby into a business. Even if you don't sell on eBay, read this anyway because you can still learn some valuable tips!
eBay is a great selling platform to get started selling online. They are easy to use, low cost, and best of all, you can start with things around your home first to understand how the process works. Plus, you get that valuable seller feedback you need and it's very easy to STOP if you decide that you no longer want to sell online, or if you want to venture into other selling areas.
One of the great things about eBay, is that you don't have to know anything about what you are selling. As long as you have a great description, and provide great images, customers will probably not contact you about it. (same for an online store!)
But what do you do when you have exhausted selling things from around your house, or from garage sales? Work with genuine wholesale suppliers of course!
Now, a BIG thing to remember, when you sell on platforms like eBay, many wholesale suppliers will not want to work with you. eBay is a price driven marketplace. Buyers go after the lowest priced products they can so many companies feel that eBay devalues their products, because everyone is always undercutting each other.
Your sourcing methods impact your prices.
Dropship Suppliers, selling one item at a time to you and shipping that product to your end customer for you, the wholesale cost is higher than if you purchase in bulk.
Light Bulk wholesalers (we coined this term), is a wholesale supplier willing to sell with lower minimum orders so you can get into the market. We list suppliers with minimum orders of $500.00 or less so you can stock and ship your own inventory, and you get better pricing, because you are purchasing in quantities.
Volume wholesalers, sell in larger volumes, like $1000 or more. You are usually buying all case packs of products. Volume wholesalers will post their tier pricing for you so you can see what the discounts are the more you buy.
Liquidators, offer store returns & overstocks. When you buy from a liquidator, you usually are buying pallet loads of products and they differ in price depending on "what" the products are on the pallet and the amount of "what" is on the pallet. You are never guaranteed if all the products on the pallet are good to sell, meaning, they aren't busted or don't work, but the majority of the products are fine. But you have to take the time to inspect and test each one before you offer it for sale. However, this is a great way to get brand name products that you can't normally get to resell, even if they aren't new in the package.
It is highly recommended to compare dropshipping prices, with light bulk prices. If the costs are close to the same, then go with dropshipping so you don't have to hold that inventory.
In order to compete on eBay, you have to get creative if you can't offer the lowest price, especially when working with dropshippers. If you buy in bulk and stock your own inventory you generally get better pricing so you can be more flexible with your offer. In the world of wholesale, the more you buy, the cheaper each individual item gets.
If you can't afford to hold inventory, and really want to use dropshipping suppliers, you need to offer incentives to the buyers on eBay to get them to want to purchase from you or BUNDLE products together to make it look like a better deal.
For example, don't offer just one chair, offer a set of chairs. Don't just offer candles; offer a case of candles or candles plus candle holders. Don't just offer a bathroom rug; offer a set of bathroom rugs.
Incentives can be a discount from you the next time they buy, or a gift certificate to buy something from you later.
We do list suppliers in our Directory that work with eBay sellers! So turn your eBay hobby business into a REAL business by working with genuine wholesale suppliers.
If you aren't a member yet, we are running an Independence Day Discount, so now is great time to join!
It's a One-time fee for a LIFETIME membership. Check it out here: http://www.worldwidebrands.com