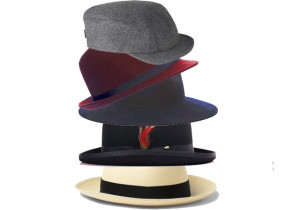 Just because you wear many hats as a small business owner and an online entrepreneur, doesn't mean they all wear well and fit right!
You may have figured out how to create a logo, or how to setup your blog or newsletter for your online business, but that doesn't mean that you are really good at it! Inferior quality of design or content on your website is a sales killer. If your site looks poorly put together, who is going to buy from you?
If a job function for your business takes an enormous amount of your time that could be better spent somewhere else, hire a professional. They will be able to do the work in a much, much shorter time than you can and it would look…hey guess what? Professional! Sure, you can keep practicing in your spare time, but who has spare time when you are juggling so many job functions?
So be completely honest with yourself here..what are you doing poorly that you could use some professional assistance to help grow your business, rather than spend your time trying to do it all yourself? Or what areas of your business are you stumbling around on trying to figure it out?
1. Design
This is a very critical area. Not everyone is proficient enough to come up with great images for their website, or for that matter, good site design. Poor images and poor design will make your potential customers run, because your store will look very amateur hour and no one wants to purchase from a site that looks inferior to others online. You want to attract business, not drive it away! The last thing you want to do is allow your business to look unprofessional, so hire a professional to help you out here. If you have a store hosting company already, they generally have a great pool of designers that are aces on that particular platform to choose from to help you. Stay with that companies recommendations! Those people/companies are approved as a designer for them for a reason! Because they are GOOD at it.
2. IT (Information Technology) 
All the techie things that makes stuff work. From your computer to your website, there are many technical things required to make your online business run. Sure you can Google for help, scan through forums where the conversations turn into how much they love cats… or you can hire a tech team to help you. Why spend time learning about all the technical aspects of your business when you can hire a professional who will look after your site or who will keep your computer running smoothly? Also, keep updates in mind! Part of the tech consultant job is to stay on top of the latest changes to site security, payment processing changes and more. With a professional watching your back, they can make sure that all this runs seamlessly for you. Keep in mind that many hosting providers have built in help, but for extra you can get more personalized help, so if you need that extra level of security to feel warm and fuzzy and that everything is OK, then hire a pro!
3. Accounting and Taxes
With great programs like QuickBooks available, Accounting and Taxes are so much easier to manage. Sure, you can keep track of your sales and expenses via spreadsheets, but with a program like QuickBooks, it will also make tax time easier because it keeps all your info in one place, and the software even generates the details needed on the specific tax forms for you! But, just like with everything, you have to monitor it, and keep it up to date. Many stores can tap into QuickBooks to record sales automatically with an API, but your expenses need to be accounted for as well and that will you input manually. If you let these things pile up, then you will have a nightmare on your hands when you try to sort it all out. Hiring an accountant can be pricy, but if you use your accounting programs right, you can use your accountant just for tax time. Another great thing about a professional for tax time is that they can find great deductions for you!
4. Content / Writing
Just like with Design, Writing takes creativity. Not everyone is blessed enough to form coherent and engaging sentences and paragraphs about your business or about your products. If you are passionate about what you are selling, I know that you can most certainly come up with ideas for content, but putting the content together, with the right wording and the right feelings you want to express can be a challenge. Poor content will scare customers away. Content riddled with typographical errors will turn people off. Use of too many exclamation points or using the wrong word to describe something can offend people. If you get writer's block every time you want to write a blog post, or if you want a new way to describe something, or if you want to expand your marketing to include article distribution, then hiring a professional is the right way to go.
5. Marketing
This is a scary word for most online entrepreneurs and it's a VERY IMPORTANT part of your business. If you don't have time to manage social posts, create social posts, check your social accounts for messages from customers,  create ads, find places to advertise, write articles, blog posts, PR and so much more, you can find a freelancer or marketing agency to help you. Or maybe just hire one to get your business off the ground and once they lay the groundwork, take it over. Some marketing groups have someone for everything in their company. One person that is a writer, another a designer, another an SEO expert, another a PPC ads expert. With just one group, you can take care of many of the aspects that your business needs.
6. Reputable Suppliers
We have heard so many horror stories over the years about new online sellers working with fraud suppliers, middlemen or sub-par suppliers. Either scamming them out of thousands of dollars, or constantly running out of inventory, or not delivering products to your customers. If you are retailing products online, having reputable suppliers is very important. Bad suppliers = Bad customer experiences and creates so much more work for yourself, plus can leave negative marks against your business. We have been finding and qualifying suppliers for over a decade. That's ALL that we do, so we are the professionals at it. Yes, you can find suppliers on your own, but do you know how to check if they are legitimate suppliers? Do you have the time to find them and play phone tag to see if they would even consider working with you? If you have that time, and know what you are doing, great! Then please keep at it and I hope the rest of this article was helpful to you!
Keep in mind, that all of these things are very doable for one person to do. But you do want to have a life as well. You might have a family that needs you or another job. So taking that step to hire trusted professionals to help you or to at least get you started is beneficial and worth considering if you are struggling to keep up or even to get started.