Even with a lot of things going on in the world taking your focus from this situation to that one, we here at Worldwide Brands remain focused on what we do!
Day in and day out we are always looking for new wholesale suppliers and dropshipping suppliers to add to our Directory of Certified Wholesalers. After we find a company of interest, we take them through a thorough verification process to ensure they are who they say they are and that they supply, what they say they supply!
We work hard to protect our members from scams, middlemen and fraud/fake suppliers. Yes, they are still out there! Lurking in the search engines and waiting to jump on anyone that visits their websites.
What was added to the Directory…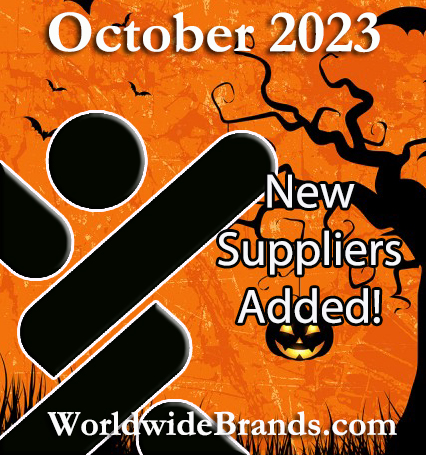 So what did we add to the Directory last month in October? We had a scary good time last month! We added suppliers that, all together, offer a SKU count of over 21,000 products!
The Newly Added Drop shippers and Wholesalers Offer:
Dropship Custom Signs
Wholesale Travel Bags
Dropship Modular Backpacks
Wholesale Women's Apparel
Wholesale Tablet Holders
Dropship Organic Cotton Clothing
Wholesale Gold Filled Jewelry
Dropship Women's Loungewear
Wholesale Ladies Clothing
Large Volume Skincare
Dropship Handpoured Candles
Wholesale Shaped Candles
Large Volume Office Furniture
and…
Wholesale Wall Decals
Wholesale Fashion Jewelry
Large Volume Women's Apparel
Wholesale Wedding Ring Sets
Dropship Sustainable Apparel
Wholesale School Supplies
Large Volume Private Label Skincare
Wholesale Office Supplies
Large Volume Playground Equipment
Wholesale College Supplies
Dropship Smartphone Stands
Wholesale Handcrafted Dolls
Dropship Licensed Sports Products
and… 😃
Large Volume Skincare
Wholesale Artwork
Dropship EMS Equipment
Wholesale Lifeguard Supplies
Large Volume Children's Toys
Dropship First Aid Kits
Wholesale Dolls
Dropship Sports Collectibles
Wholesale Art Furniture
Dropship Retro Jelly Purses
Wholesale Skateboards
Large Volume Baby Monitors
Wholesale Skateboard Wheels
Large Volume CBD Supplements
…and more!
If you are a member, Login today, to check out the newest additions.
Not a member yet? Now is the time to get started!