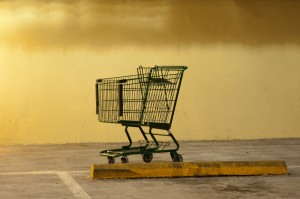 It has been reported that around 80% of a online store's revenue is from 20% of their repeat customers. So try to think of ways that will keep bringing them back to shop!
To keep consumers coming back to your store, something that many shopping carts offer are rewards. Whether it is a discount for purchasing over a certain amount or points for purchases or auto-shipments. Take advantage of what your store builder or shopping cart provider has to offer in the way of marketing and promotions, because they can be a big help in the long run.
A consumer that knows they have store credit, or that they are earning store credits, will be more willing to shop at your store as well as come back to use those points.  They are like coupons that never expire.
I'm a member of some sites like this. One of them charges me a monthly amount and that turns into a store credit. I can then use that store credit to purchase something each month. Another that I'm a member of, gives me reward points for every dollar spent. I enjoy shopping on these sites because 1. they offer products that I like and 2. the rewards keep me coming back for discounts.
Here are some examples of what some popular shopping carts have to offer:
Zen Cart, which has been asked about in our Member's Only forum, allows a module for store credits. So for every dollar that the customer spends at your store, they will get a certain amount of points to use for future purchases that will discount their purchase. They also have a approved partner for this program that will email your customers their point balances and other features.
3D Cart, another shopping cart that has been mentioned in our Member's Only forum, also has great marketing features. Coupons and promotions, affiliate programs, newsletter management, gift certificates and more.
Magento, that has also been talked about in our forum, offers rewards programs where shoppers can get points towards future purchases.
Each of these providers will either offer their marketing and promotion for a fee or it is built into the service. If you don't have a shopping cart or a site builder with a built in shopping cart yet, then make marketing and promotions part of your research to determine which platform is right for you.