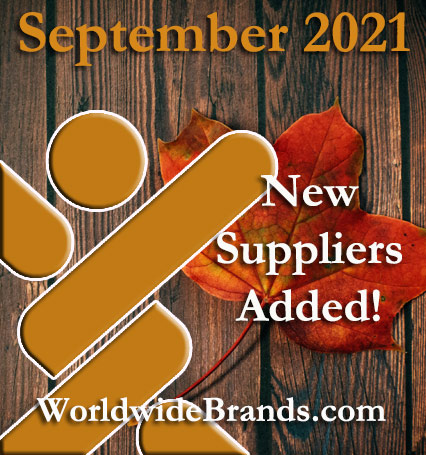 Every day we work hard on the Dropshippers and Wholesalers Directory. Behind the scenes we are contacting thousands of companies a month, looking for the best of the best that will work with online only retailers.
Every month we are proud to summarize to our readers what we added the previous month. So what did we add to the Dropshippers and Wholesalers Directory in September 2021? Keep reading!
But first, one of the best things about the Worldwide Brands Certified Directory of Wholesalers and Dropshippers is that we don't just list any company that says they dropship or wholesale.
Every company goes through an extensive verification process before considering them for a listing in our Directory. Then on top of that, the supplier gets re-checked over for final decision. Our members NEVER have to worry about scam, fake or fraud suppliers! We guarantee that!

For September we added new wholesale suppliers, that together, offer a total SKU count of over 15,000 products!! Best of all these suppliers are ready to work with our online retailer members and most were added as a result of a member product request.
The Newly Added Suppliers Offer
Large Volume Women's Fashion
Dropship Women's Clothing
Wholesale Women's Apparel
Dropship Firearm Accessories
Wholesale Electric Shovels
Dropship Gardening Tools
Wholesale Dog Leashes
Dropship Dog Supplies
Wholesale Multi-Function Dog Leads
Dropship Lab Colored Diamonds
Wholesale LED Candles
Dropship Flameless Candles
Wholesale Scented Cat Litter
Dropship Lab Grown Diamonds
Wholesale Kitty Litter
Dropship Adult Toys
Wholesale Books
Dropship Custom Shaped Diamonds
Wholesale Women's Fashion Clothing
Large Volume Seasonal Home Decor
Dropship Lingerie
Wholesale Books Sets
Dropship Sweaters
Wholesale Office Supplies
Dropship UV Sanitizer Wands
Wholesale Reusable Whiteboard Tools
Wholesale Handcrafted Jewelry
Large Volume Pet Food
Wholesale UV Light Sanitizers
Wholesale Bead Bracelets
Large Volume Licorice Candy
Wholesale Contemporary Apparel
Wholesale Handmade Earrings
Dropship UVC Germicidal Lights
Wholesale Tactical Flashlights
Large Volume Ginger Ale
Wholesale Firearm Accessories
Dropship Children's Learning Activities
Wholesale Cocktail Dresses
Large Volume Soft Candy
Wholesale Rifle Sights
Dropship STEM Toys
Wholesale Children's Educational Products
Large Volume Lingerie
…and more!
If you are a member, Login today, to check out the newest additions.
Not a member yet? What are you waiting for?