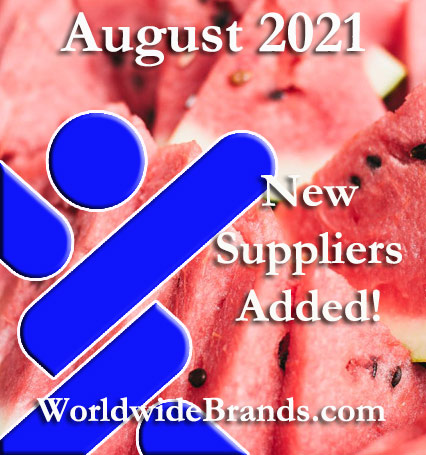 We work hard on the Wholesalers and Dropshippers Directory. Behind the scenes we are contacting thousands of companies a month, looking for the best of the best that will work with online only retailers.
Every month we are proud to summarize to our readers what we added the previous month. So what did we add to the Wholesalers and Dropshippers Directory in August 2021? Keep reading!
But first, one of the best things about the Worldwide Brands Certified Directory of Wholesalers and Dropshippers is that we don't just list any company that says they dropship or wholesale.
Every company goes through an extensive verification process before considering them for a listing in our Directory. Then on top of that, the supplier gets re-checked over for final decision. Our members NEVER have to worry about scam, fake or fraud suppliers! We guarantee that!

For August we added new wholesale suppliers, that together, offer a total SKU count of over 5,000 products!! Best of all these suppliers are ready to work with our online retailer members and most were added as a result of a member product request.
The Newly Added Suppliers Offer
Wholesale Handcrafted Purses
Wholesale Evening Bags
Dropship Beaded Handbags
Wholesale Bedding Sets
Wholesale Outdoor Furniture
Dropship Personalized Purses
Wholesale Hotel Linens
Wholesale Quilts
Dropship Clutches
Wholesale Water Soluble CBD Powder
Wholesale CBD Supplements
Large Volume Candy
Wholesale CBD Liquid Concentrate
Wholesale Food and Drinks
Dropship Paper Cutters
Wholesale Craft Lights
Wholesale Sewing Tools
Dropship Crafting Tools
Wholesale Bedding Sets
Wholesale Bamboo Pillows
Dropship Activity Trackers
Wholesale Duvet Covers
Wholesale Sheet Sets
Dropship Smartwatches
Wholesale Watches
Dropship Kids Swimsuits
Wholesale Children's Swimwear
Large Volume Handbags
Dropship Women's Fashion
Wholesale Women's Slimming Clothing
Wholesale Handbags
Large Volume European Foods
Wholesale Fabrics
Dropship Women's Golf Clothing
Wholesale Craft Fabrics
Wholesale Liquid Vitamins
Large Volume Snacks
Wholesale Supplements
Wholesale Ionic Minerals
Large Volume Music Instrument Accessories
Wholesale Leather Jackets
Wholesale Women's Clothing
Dropship Baby Blankets
Wholesale Nursing Wraps
Wholesale Patterns
Dropship Women's Wraps
Wholesale Garment Patterns
Wholesale Scented Sachets
Dropship Room Fragrances
Wholesale Recycled Swimsuits
Dropship Air Fresheners
Wholesale Eco-Friendly Swimwear
…and more
If you are a member, Login today, to check out the newest additions.
Not a member yet? What are you waiting for?