PRINT


Holiday Sales - Is Your E-Biz Ready for the Holidays?
by Chris Malta
Ever heard the phrase, "Christmas in July?" It's no joke!
Imagine this with me for a moment: it's Summer, or early to mid-Fall. In the northern part of the US, the weather is still nice and warm. In the south, it's hot. All over the US, swimming, boating, jet-skis and motorcycles are the rule. Backyard barbecues, and long lazy nights under the stars. The last thing on anybody's mind right now is Christmas.
Or is it? Believe it or not, there are people who are thinking of nothing but Christmas right now. Who are they? Product Manufacturers, Wholesale Suppliers, and Retailers.
Manufacturers are rolling out their latest product lines for the Holiday Season. At this time of year, you'll noticed that next year's cars are available at the Auto dealerships already. The new "model runs" for everything from DVD Players to Toasters are coming off the assembly lines.
Wholesale Suppliers are planning their cold-weather product inventories, like Ice Skates, Indoor Games, and warm fuzzy Sweaters.
Christmas parties, Hanukkah celebrations, Kwanzaa gatherings and more are still just a tickle of exciting anticipation in most people's minds, but the Holiday Season Sales Machine is cranking up into full gear. Swimsuits are disappearing off the racks in retail stores, replaced first by School Supplies, then by loads of Toys and Gifts. Wholesale Suppliers are beginning to strain the capacity of their warehouse shelving units with overstocks of new products. Retail Stores are planning their Holiday advertising campaigns.
Why is all this happening now? Because the Holidays are coming, sooner than you think! It takes a lot of planning and foresight for product manufacturers, wholesale suppliers and retailers to get ready for the Holidays.
ECommerce businesses are no different! If you own a Home-based Internet Business, or are thinking about starting one, you are in an excellent position RIGHT NOW to catch the Holiday Season Sales Blitz! But, you need to get going, or get left behind until next year!
The Holiday Season is the bonanza that all retailers look forward to every year. According to the National Federation of Retailers, as much as 40% of ALL retail sales occur in those few short weeks leading up to the December Holiday vacation that we all look forward to.
However, there's more to it than that. As much as 60 to 70% of all the products that people buy as Gifts are sold. When I say Gifts, I'm NOT talking about birdhouses and glass figurines. I AM talking about the warm fuzzy sweaters, the sporting goods, the toys, and all the other things that people would normally buy for themselves throughout the year if they had the extra cash.

THIS is when they buy those things.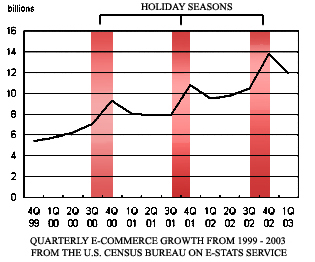 See the red shading in this graphic? Those red areas are the Holiday Seasons from 1999 to 2002. Those black lines that are slanting upward so steeply are the rises in ECOMMERCE sales, in billions of dollars, during those Holiday Seasons.

Notice that after a steep Holiday rise in ECommerce, the line does not go back down to where it started. It drops off as we hit January, but levels off at a higher level than the year before. What you're seeing there is the fact that overall Internet Retailers, like you and me, are making more and more money every year. Another good thing to know is that 75% of the billions in online sales every year are made by strictly Internet Retailers that do not have physical stores, just like you and me.

There is no end to this trend in sight.

Online shopping is the fastest growing area of internet use each year. 40% of all current internet users already purchase goods online. The number of Internet users is increasing dramatically every day.

Internet Retail sales continue to outpace overall retail purchases. Total retail sales rose just 4.4 percent in 2001 while Internet Retail sales rose 22% for a total of $34 Billion. In fact, Internet Retail has posted consistent double-digit gains throughout the economic slump. Non-store retailers like you and me accounted for a whopping $26 Billion of that market!

So, what I'm saying here is that:

1. Internet Retail is growing rapidly, with no end in sight.

2. The Holiday Season accounts for 40% of the whole year's retail sales in Internet Retail, and as much as 70% in some product markets.

3. The Holiday Season is coming...be ready for it!
The time to begin preparing your existing Home-based Internet Business, or to start your new business is NOW, while everybody's still enjoying the warmer weather. Your Holiday Retail Season will make it worth missing a couple of camp-outs!