How to Find Dropship Products
Finding products to sell in your
online store or auctions.
How to Find Drop Ship Products for your Online Store
There are different ways to locate products to sell in your online store. From local sourcing to buying container loads. Most online retailers start with dropshipping and then expand from there.
Understanding the Dropshipping Supply Chain
There are several ways to get drop ship products, you just have to find the right company that is willing to do it for you.
You start with the manufacturer. Manufacturer's make the products and then distribute them out from there. The traditional supply chain is that most manufacturers (especially large brand name manufacturers) will only sell their products to authorized distributors and wholesale suppliers. This is because distributors and wholesalers purchase in large volumes so they can sell to multiple retailers or other wholesalers.
But you should always talk to the manufacturer first. If they are willing to do drop shipping for you, that is the best company to work with, as that is as close to the source that you can possibly get. You would place the order with the manufacturer, and they will ship it to your customer.

If the manufacturer won't drop ship for you, ask them for a list of their authorized distributors or wholesale suppliers that you could possibly work with. Then contact those companies and see if they drop ship for retailers.
The further down the chain you go, the higher the wholesale prices are. The distributors and wholesalers have to pay for these items, the freight costs and employees to unload trucks. So they will add to the wholesale price to recoup these expenses.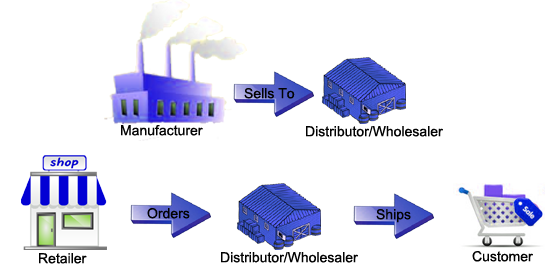 Common Misunderstanding
We talk about scams and middlemen on our site as companies to avoid. Yes, you should!! Check out our
Scam Watch
page for things to look out for.
One of the biggest misunderstandings when we talk about middlemen, is many retailers think that we mean distributors and wholesale suppliers because they are in between you and the manufacturer. This isn't true in the world of dropshipping.
When the manufacturer won't provide drop shipment for you, then you have to work with one of their wholesale suppliers. This isn't a middleman scenario in this case, because you simply cannot obtain the products from the original source; the manufacturer. So you have to work with who you can, but keep it as close to the manufacturer as possible! So only working with authorized distributors or first level wholesale suppliers is very important and will get you better pricing.
Tracking down the right dropshippng suppliers that offer drop ship products can be VERY time consuming. Once you know what to look for and where to start, the process can be a little easier, but it's still a lengthy process and don't give up when you hear NO, which happens a lot.
We have already done the work for you!
We know the struggles that many online retailers face in locating genuine wholesale suppliers to work with for their online stores. That is why we have spent years visiting tradeshows, visiting wholesalers and finding those genuine wholesale suppliers who will work with new and experienced online sellers.
It's not easy, but after over a decade we have collected the internet's largest, most comprehensive
Directory of Certified Wholesalers
you can find anywhere...and we add new WBI Certified® Wholesalers all the time!

You may also be interested in:
The Best Wholesale Products Come from WBI Certified® Wholesalers:
Take a quick look at how we locate genuine certified wholesalers for online sellers who work from home.
Wholesale Tips Videos:
These Free videos, hosted by our CEO Chris Malta, covers the top wholesale questions asked by new online sellers interested in working with wholesale distributors. Simply click the link if you would like to watch them now on our site.
Dropshipping Blog:
We post a lot of great information on our blog about selling online, dropshipping, about drop shippers and more. Click the link to visit and don't forget to comment on the posts you like!