Behind the scenes we are contacting & re-contacting thousands of companies a month, looking for the best of the best wholesalers and dropshippers, that will work with online retailers.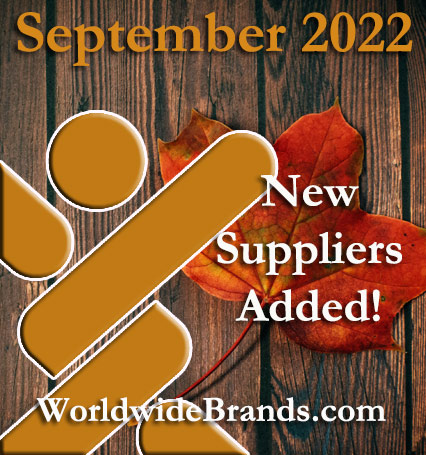 So what did we add to the Directory in September 2022? We added new wholesale & dropshipper suppliers, that together, offer a total SKU count of over 6,000 products!!
These suppliers are ready to work with our online retailer members. Above all, most were added as a result of a member product request and that means that we have some happy members!
Don't forget about those product requests if you are a member! If you are looking for something in particular, submit a request directly to the research team. We will certainly do our best to add some suppliers for something YOU requested!
The Newly Added Dropshipper and Wholesalers Offer:
Large Volume Women's Apparel
Wholesale Handcrafted Wooden Cutting Boards
Large Volume Walk-In Humidors
Dropship 3D Wooden World Maps
Wholesale Kitchenware
Dropship Nostalgic Art Prints
Large Volume RC Toys
Dropship Home Decor
Wholesale Car Organizers
Dropship Travel Products
Wholesale Bath and Body Products
Wholesale Firearm Accessories
Dropship Hungarian Goose Down Bedding
Dropship Electric Bicycles
and…
Wholesale Home Decor
Dropship Decorative Home Textiles
Wholesale Natural Skincare
Dropship Leather Journals
Large Volume Pet Supplies
Dropship Children's Cashmere Apparel
Wholesale Baby Clothing
Dropship Leather Handbags
Wholesale Briefcases
Dropship Pet Supplies
Wholesale Dog Waste Bags
Wholesale Firearms
Dropship Pillows
Dropship E-Bikes
and…
Wholesale Vegan Wallets
Dropship Cat Toys
Wholesale Fashion Accessories
Dropship Vegan Leather Handbags
Wholesale Pet Lovers Gifts
Dropship Dog Carriers
Wholesale Dog Car Magnets
Dropship Pet Travel Accessories
Wholesale Cat Lovers T-Shirts
Dropship Dog Fashion Accessories
Wholesale Eco-Friendly Pet Products
Wholesale Gun Parts
Dropship Bedding
…and more!
If you are a member, Login today, to check out the newest additions.
Not a member yet? Now is the time to get started!