Wholesale Pet Supplies is a very popular area for online retailers & popular products to purchase by consumers. People just love their pets and have no problems spoiling them with treats, toys, blankets, beds, clothing and more.
Wholesale Pet Supplies in the Worldwide Brands Directory
Right now there are over 200 Wholesale & Dropshipping WBI Certified Suppliers in the Pet Supplies Category in the Directory. So if you are looking to sell pet supplies online; you will find some unique & interesting things in there! Not a member yet? Click FREE PREVIEW at the top of the site to get guest access to check it out.
Fido Pet Products – Dropship & Light Bulk
We are proud to present this month's Featured Supplier!
Fido Pet Products
"Products for Active Pets"
Principle, Kurt Vonderheide, provided us with the answers to our questions.
Q: Tell Us About Your Business
Fido Pet Products is a leading name in the pet supply industry, serving happy owners and pets with innovative and quality products. Founded as Paws Aboard, LLC over 15 years ago with the idea to bring people, pets, style, and safety together. The company changed its name to FIDO Pet Products, LLC to reflect the broader product offering and strategy. Today, Fido Pet Products' mission is to deliver quality products focused on the active lifestyles of pet owners, whether on water, traveling, or at home.
Q: Tell us more about your product lines.
PAWS Aboard Dog Life Jackets by Fido Pet Products provide ultimate buoyancy and high visibility, with a lightweight, secure fit to keep pets safe in or around the water. Unlike traditional life jackets, which can cause chafing and heat exhaustion, the advanced PAWS Aboard design features a breathable mesh underbelly that allows for proper water drainage and drying to provide your dog greater comfort and healthier conditions. We also offer other items to join owners together with their pets, such as dog ladders, rafts, toys and more.
The FidoRido Pet Car Seat provides dogs up to 30 pounds with a two-strap safety restraint system that equalizes the force of a sudden stop. Even though restrained, your dog can stand sit, lie down, AND look out the window! FidoRido offers greater comfort and space over other dog car seats and seat belt harnesses. The base of the FidoRido is made of an easy-to-clean, hard-sided plastic which is very durable and will last for years upon years. We offer a fun selection of fleece replacement covers if the original cover is loved to the point of replacement!
Q: There are a lot of other active pet products brands out there. What sets yours apart from the competition?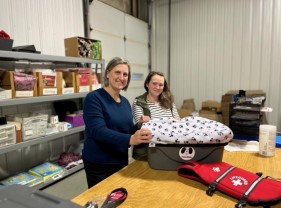 As lifelong pet owners, we live an active outdoor lifestyle and consider our pets beloved family members. Our products are designed for the safety and enjoyment of our precious pets from boats to backyards. We develop and deliver quality pet products that allow pets to join pet owners at the pool or on boats, kayaks, paddle boards or the lake. They must be safe.
Q: Do you have any advice for online retailers that want to sell your products?
We are a small family-owned manufacturer that values every customer and business partner. We strive to satisfy our customers. Easy to reach by phone or email, we welcome any comments or inquiries from online retailers. Please contact us for dealer info.
Editor Note: It's very important that your supplier is easy to reach & customer oriented. It makes for such ease to work with because they will keep good communication with you; and because they are a family owned company, they CARE.
If you are a member, LOGIN today to check out how to become a dealer!
Search for: Fido
If you are not a member yet, what are you waiting for? This supplier, and thousands others are waiting to hear from you!
Check out the Directory HERE.