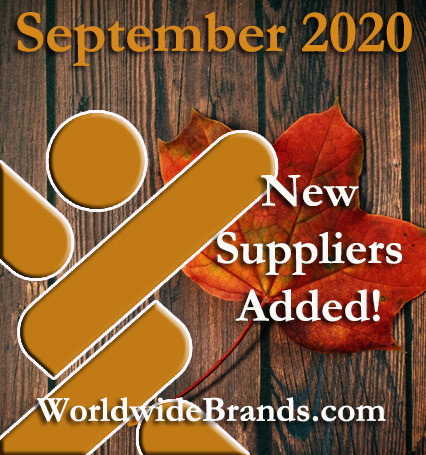 Finding new wholesale suppliers for our members is what we do and WE LOVE IT! That's why we contact hundreds a day looking for the best wholesalers to certify and add to the Wholesaler & Dropshipper Directory.
This is just a quick notice to let you know what we added to the Worldwide Brands Directory of Certified Wholesalers for the month of September 2020 for our members!
We added suppliers, that together, offer a total SKU count of over 9,000 products!
The newly added suppliers offer:
Wholesale Wooden Furniture
Wholesale Coffee Capsules
Wholesale Fashion Apparel
Wholesale Specialty Foods
Wholesale Glass Smoking Devices
Wholesale Motorcycle Apparel
Wholesale Fashion Pet Supplies
Wholesale Monster Christmas Ornaments
Wholesale Wooden Plaques
Wholesale Fair Trade Apparel
Wholesale Cabin Air Filters
Wholesale Men's Natural Skincare
Wholesale Knitwear
Wholesale Unisex Apparel
Wholesale Milk Processing Equipment
Wholesale Leather Luggage Sets
Wholesale Anti Snoring Devices
Wholesale Energy Bars
Wholesale CBD Protein Bars
Wholesale Fashion Accessories
Wholesale Natural Hair Care
… and more!
If you are a member, Login today, to check out the newest additions.
Not a member yet? What are you waiting for?