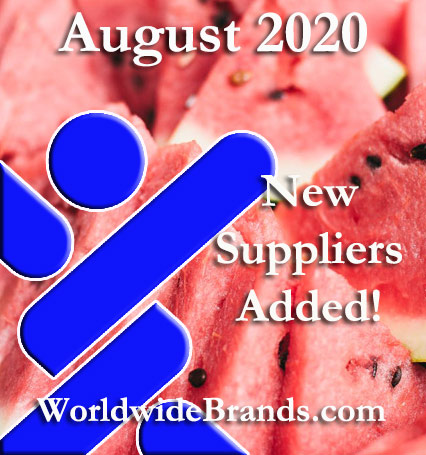 Finding new wholesale suppliers for our members is what we do and WE LOVE IT! That's why we contact hundreds a day looking for the best wholesalers to certify and add to the Wholesaler & Dropshipper Directory.
This is just a quick notice to let you know what we added to the Worldwide Brands Directory of Certified Wholesalers for the month of August 2020 for our members!
We added suppliers, that together, offer a total SKU count of over 18,000 products!
The newly added suppliers offer:
Wholesale Natural Body Care
Wholesale CBD Oils
Wholesale Novelty Socks
Wholesale iPhone Chargers
Wholesale Travel Backpacks
Wholesale Avocado Oils
Wholesale Artisan Jewelry
Wholesale Hand Sanitizer
Wholesale Modern Furniture
Wholesale Work Boots
Wholesale Custom Furniture
Wholesale Fashion Watches
Wholesale Bluetooth Speakers
Wholesale Dessert Wafers
Wholesale Tech Accessories
Wholesale Soy Candles
Wholesale Sustainable Swimwear
Wholesale Trade Show Supplies
Wholesale Darts
Wholesale Natural Dog Treats
Wholesale Musical Instruments
…and more!
If you are a member, Login today, to check out the newest additions.
Not a member yet? What are you waiting for?
Tags: dropshippers, ecommerce, finding products to sell, selling online, wholesalers