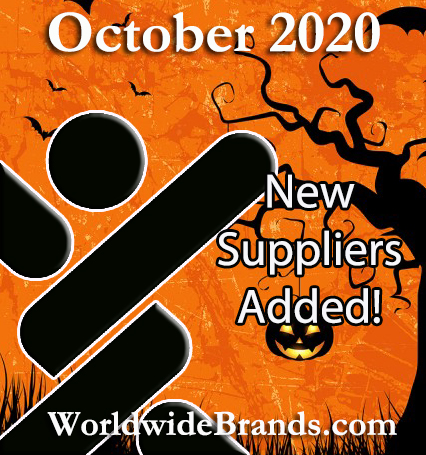 Finding new wholesale suppliers for our members is what we do and what we've been doing for over 20 years!

We contact hundreds of suppliers a day looking for the best wholesalers to certify and add to the Wholesaler & Dropshipper Directory.
This is just a quick notice to let you know what we added to the Worldwide Brands Directory of Certified Wholesalers for the month of October 2020 for our members!
We added suppliers, that together, offer a total SKU count of over 103,000 products! YESSS! And these suppliers are ready to work with our online retailer members!
The newly added suppliers offer:
Dropship and Wholesale Dead Sea Skincare
Wholesale and Dropship Activewear
Dropship and Wholesale Surf Apparel
Wholesale General Merchandise
Wholesale Natural Pet Treats
Wholesale General Merchandise – yes we added two!
Dropship and Wholesale Hemp CBD Oils
Dropship Men's Leather Shoes
Wholesale Smoking Accessories
Dropship Medical Supplies
Wholesale Disney Face Masks
Wholesale Eye Drops
Dropship and Wholesale Organic Skincare
Wholesale and Dropship Mink Eyelashes
Wholesale Men's Underwear
Wholesale Airbrush Makeup
Dropship and Wholesale Smoking Blends
Wholesale and Dropship Home Decor
Dropship Watches
Dropship and Wholesale Men's Fashion Socks
Wholesale Nail Polish Strips
Wholesale and Dropship Pewter Gifts
.. and more!
If you are a member, Login today, to check out the newest additions.
Not a member yet? What are you waiting for?