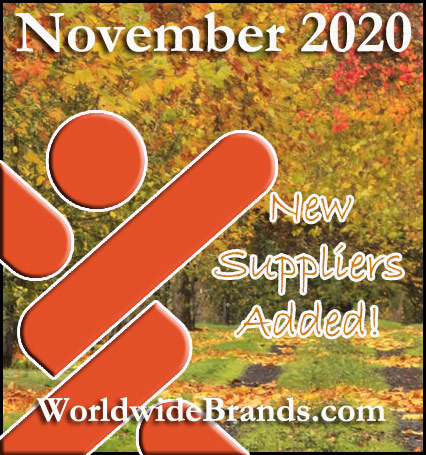 Finding new wholesale suppliers for our members is our daily joy and fun. We love what we do for our members!

We contact hundreds of suppliers a day looking for the best wholesalers to certify and add to the Wholesaler & Dropshipper Directory.
This is just a quick notice to let you know what we added to the Worldwide Brands Directory of Certified Wholesalers for the month of November 2020!
We added suppliers, that together, offer a total SKU count of over 31,000 products! These suppliers are ready to work with our online retailer members!
The newly added suppliers offer:
Wholesale Men's Big and Tall Clothing
Wholesale Musical Instruments
Wholesale Custom Watches
Wholesale Hand Forged Knives
Dropship Medieval Weapons
Wholesale Nutritional Oils
Dropship Protein Powders
Wholesale Henna Tattoo Kits
Wholesale CBD Oils
Wholesale Keto Friendly Snacks
Wholesale Guitars
Dropship Musical Instruments
Wholesale Women's Swimwear
Wholesale Women's Clothing
Wholesale Craft Beer Kits
Dropship Home Brewing Kits
Wholesale Nautical Decor
Wholesale Contemporary Furniture
Dropship Beltless Buckles
Wholesale Violins
Wholesale Medical Alert Systems
Dropship Elderly Products
Wholesale Essential Oils
Dropship Skincare Products
Wholesale Men's Accessories
Dropship Bow Ties
Dropship Neckties
Dropship Cufflinks
…and more!

If you are a member, Login today, to check out the newest additions.
Not a member yet? What are you waiting for?