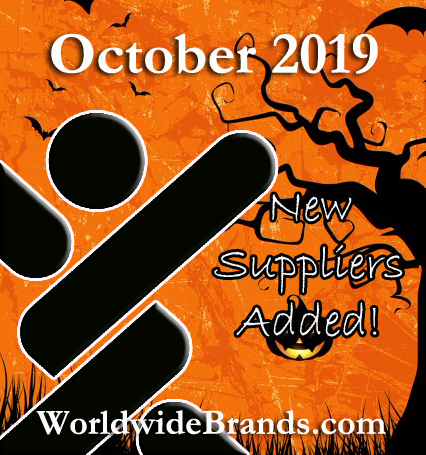 We love finding new wholesale suppliers for our members! That's why we contact hundreds a day looking for the right ones to add to the Wholesale Directory.
This is just a quick note to let you know what we added to the Worldwide Brands Directory of Certified Wholesalers for the month of October 2019 for our members!
We added suppliers, that together, offer a total SKU count of over 19,000 products!
The newly added suppliers offer:
Wholesale Books
Wholesale Eco-Friendly Dinnerware
Wholesale Pet Supplies
Wholesale Mineral Makeup
Wholesale Pop Culture Toys
Wholesale Leather Wallets
Wholesale Musical Instrument Clocks
Wholesale Eyewear
Wholesale Coffee Beans
Wholesale Dried Fruits
Wholesale Waist Trainers
Wholesale Sun Hats
Wholesale Kitchen Tools
Wholesale Pop Culture Posters
Wholesale CBD Oils
Wholesale Grilling Foil
Wholesale Bath Bombs
Wholesale Furniture Components
Wholesale CBD Supplements
Wholesale Wearable Wrist Rests
Wholesale BBQ Grill Smokers
Wholesale Denim Gift Plaques
Wholesale Automotive Test Strips
Wholesale Bluetooth Speakers
Wholesale Personal Air Conditioners
and more!
If you are a member, Login today, to check out the newest additions.
Not a member yet? What are you waiting for?