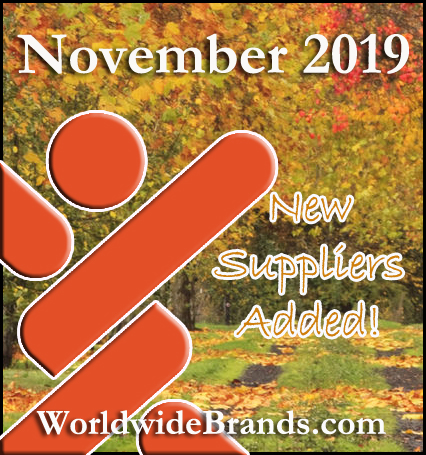 We love finding new wholesale suppliers for our members! That's why we contact hundreds a day looking for the best wholesalers to certify and add to the Wholesaler Directory.
This is just a quick note to let you know what we added to the Worldwide Brands Directory of Certified Wholesalers for the month of November 2019 for our members!
We added suppliers, that together, offer a total SKU count of over 13,000 products!
The newly added suppliers offer:
Wholesale Aromatherapy Bath Products
Wholesale Wireless Backup Cameras
Wholesale Drink Mixes
Wholesale Writing Templates
Wholesale Religious Decor
Wholesale Fashion Shoes
Wholesale Handmade Leather Jewelry
Wholesale Anti Aging Skincare
Wholesale Anti Theft Laptop Backpacks
Wholesale Head Lice Treatment
Wholesale Shoe Insoles
Wholesale Headband Headphones
Wholesale Guitar Strings
Wholesale Natural Soy Candles
Wholesale CBD Gummies
Wholesale Fashion Swimwear
Wholesale Lingerie
Wholesale Smoking Accessories
Wholesale Canvas Tote Bags
Wholesale Laptop Replacement Batteries
Wholesale Smartphone Accessories
Wholesale Christian Gifts
Wholesale LED Beauty Masks
Wholesale RFID Wallets
Wholesale Travel Products
and more!
If you are a member, Login today, to check out the newest additions.
Not a member yet? What are you waiting for?