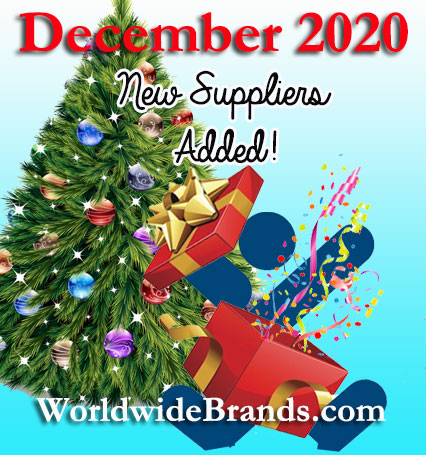 Finding new wholesale suppliers for our members is WHAT WE DO! We love what we do for our members!

We contact hundreds of suppliers a day looking for the best wholesalers to certify and add to the Wholesaler & Dropshipper Directory.
This is just a quick notice to let you know what we added to the Worldwide Brands Directory of Certified Wholesalers for the month of December 2020!
We added suppliers, that together, offer a total SKU count of over 11,000 products! These suppliers are ready to work with our online retailer members!
The newly added suppliers offer:
Wholesale Men's Underwear
Wholesale Travel Cases
Dropship Toiletry Cases
Wholesale Ethnic Jewelry
Wholesale Sunglasses
Wholesale Fashion Apparel
Dropship Women's Clothing
Dropship Plus Size Tops
Wholesale Volleyball Training Products
Dropship Volleyball Training Aids
Wholesale Dog Collars
Dropship Pet Supplies
Wholesale Women's Graphic Tees
Wholesale Headlamps
Wholesale Rubber Ducks
Dropship Collectible Rubber Ducks
Wholesale Men's Jewelry
Wholesale Men's Bracelets
Dropship Hip Hop Jewelry
Dropship Men's Watches
Dropship Bling Jewelry
Wholesale Hats
Wholesale Women's Hats
Wholesale Skincare
Dropship Skincare
Dropship Bug Repellents
Wholesale Dinnerware
Dropship Sustainable Dinnerware
Dropship Bamboo Drinking Straws
Dropship Eco-Friendly Products
Wholesale Sidewalk Chalk
Wholesale Children's Chalk
Wholesale Home Decor
Dropship Rugs
Dropship Home Decor
Wholesale Coffee
Wholesale Loose Leaf Teas
Wholesale Gourmet Hot Cocoa
Dropship CBD Skincare
Dropship Anti-Aging Creams
Wholesale Peanuts
Wholesale Almonds
Wholesale Snacks
Wholesale Bubble Bath
Dropship Bath Bombs
Dropship Shower Steamers
…and more!

If you are a member, Login today, to check out the newest additions.
Not a member yet? What are you waiting for?