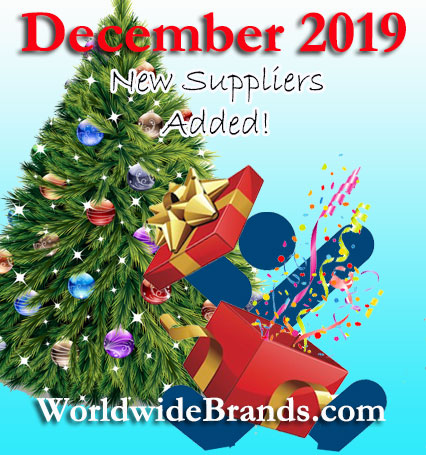 We love finding new wholesale suppliers for our members! That's why we contact hundreds a day looking for the best wholesalers to certify and add to the Wholesaler Directory.
This is just a quick note to let you know what we added to the Worldwide Brands Directory of Certified Wholesalers for the month of December 2019 for our members!
We added suppliers, that together, offer a total SKU count of over 134,000 products! Yes!
The newly added suppliers offer:
Wholesale Wireless Headphones
Wholesale Gun Grips
Wholesale Goat Milk Lotions
Wholesale Leather Jackets
Wholesale Leather Shoes
Wholesale Screen Printed T-shirts
Wholesale Handmade Wood Decorations
Wholesale Bedding
Wholesale Laser Etched Drinkware
Wholesale Digital Rearview Mirrors
Wholesale Gel Nail Polish
Wholesale Aroma Diffusers
Wholesale Knife Handles
Wholesale Kick Scooters
Wholesale Musical Instruments
Wholesale Potting Soil
Wholesale Special Effects Makeup
Wholesale Car Chiptuning
Wholesale Self Watering Planters
AND MORE…!
If you are a member, Login today, to check out the newest additions.
Not a member yet? What are you waiting for?