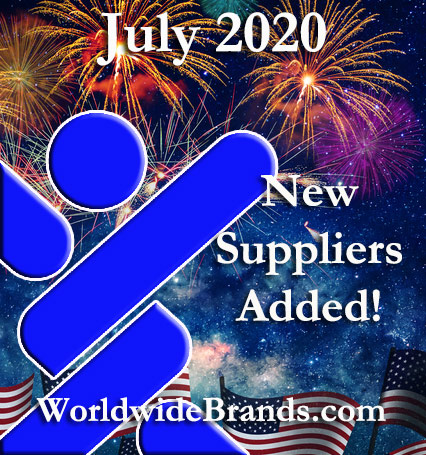 Finding new wholesale suppliers for our members is what we do and WE LOVE IT! That's why we contact hundreds a day looking for the best wholesalers to certify and add to the Wholesaler & Dropshipper Directory.
This is just a quick notice to let you know what we added to the Worldwide Brands Directory of Certified Wholesalers for the month of July 2020 for our members!
We added suppliers, that together, offer a total SKU count of over 12,000 products!
The newly added suppliers offer:

Wholesale Pet Supplies
Wholesale Men's Shoes
Wholesale Jewelry
Wholesale Baskets
Wholesale Energy Gummies
Wholesale Organic CBD Products
Wholesale Home Decor
Wholesale Custom Hats
Wholesale Herbal Supplements
Wholesale Portable Grills
Wholesale Portable Power Supply
Wholesale Smoking Devices
Wholesale Leather Wallets
Wholesale Handmade Jewelry
Wholesale Eco-Friendly Tote Bags
Wholesale Hemp Honey
Wholesale Custom Stickers
Wholesale Custom Ornaments
Wholesale Wireless Smart Buttons
Wholesale Custom Face Masks
Wholesale Greeting Cards
Wholesale Wireless Brake Lights
Wholesale Men's Clothing
Wholesale Strip Curtain Doors
…and more!
If you are a member, Login today, to check out the newest additions.
Not a member yet? What are you waiting for?