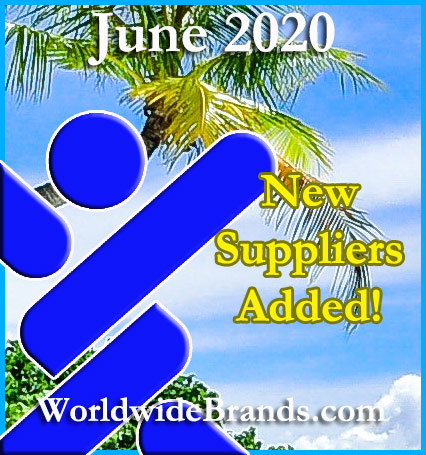 Finding new wholesale suppliers for our members is what we do and WE LOVE IT! That's why we contact hundreds a day looking for the best wholesalers to certify and add to the Wholesaler & Dropshipper Directory.
This is just a quick notice to let you know what we added to the Worldwide Brands Directory of Certified Wholesalers for the month of June 2020 for our members!
We added suppliers, that together, offer a total SKU count of over 68,000 products! YESSSS!!!!
The newly added suppliers offer:

Wholesale Dabbing Tools
Wholesale Smart Bicycle Accessories
Wholesale Fair Trade Products
Wholesale Cuckoo Clocks
Wholesale Fashion Liner Socks
Wholesale Wood Blanks
Wholesale Organic Baking Mixes
Wholesale Luxury Bedding
Wholesale Women's Sandals
Wholesale Wooden Gavels
Wholesale Women's Jewelry
Wholesale Patio Heaters
Wholesale Beachwear
Wholesale Women's Jewelry
Wholesale Natural Dog Treats
Wholesale Wood Components
Wholesale Survival Gear
Wholesale Luxury Flatware
Wholesale Custom Printed Apparel
Wholesale Handcrafted Candles
Wholesale Handmade Fashion Accessories
Wholesale Guitar Straps
…and more!
If you are a member, Login today, to check out the newest additions.
Not a member yet? What are you waiting for?