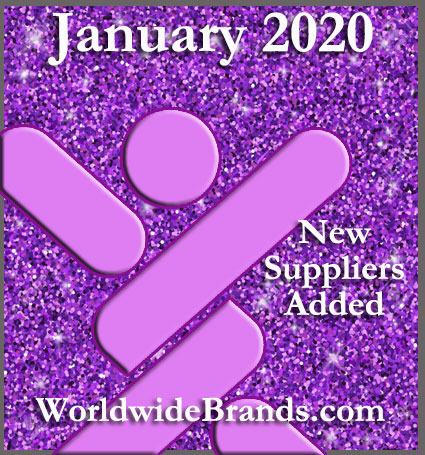 We love finding new wholesale suppliers for our members! That's why we contact hundreds a day looking for the best wholesalers to certify and add to the Wholesaler Directory.
This is just a quick note to let you know what we added to the Worldwide Brands Directory of Certified Wholesalers for the month of January 2020 for our members!
We added suppliers, that together, offer a total SKU count of over 15,000 products! Yes!
The newly added suppliers offer:
Wholesale Fair Trade Jewelry
Wholesale Car Audio Equipment
Wholesale Oral Spray Supplements
Wholesale Smartphone Picture Storage
Wholesale Women's Clothing
Wholesale Superfood Infused Coffee
Wholesale Liquor
Wholesale Personalized Tote Bags
Wholesale Messenger Backpacks
Wholesale Liquid Collagen Proteins
Wholesale Organizer Luggage
Wholesale Fabric Hand Fans
Wholesale Baby Accessories
Wholesale Electronic Cigarettes
Wholesale Women's Apparel
Wholesale Framed Art Prints
Wholesale Contemporary Clothing
Wholesale Natural First Aid Products
Wholesale Metal Signs
Wholesale Water Purification Systems
Wholesale Fashion Socks
Wholesale Blank Apparel
…and more!
If you are a member, Login today, to check out the newest additions.
Not a member yet? What are you waiting for?