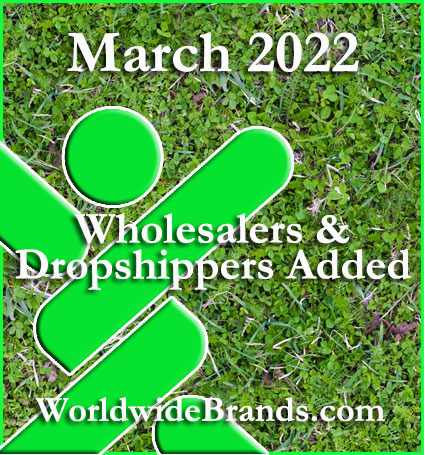 Another month of adding great dropshippers and wholesalers to the Directory has gone by! Behind the scenes we are contacting thousands of companies a month, looking for the best of the best suppliers and dropshipper, that will work with online only retailers.
Our research team stays busy for YOU. So what did we add to the Dropshippers and Wholesalers Directory in March 2022? Well, we are excited to tell you!
We added new wholesale & dropshipper suppliers, that together, offer a total SKU count of over 7,200 products!! These suppliers are ready to work with our online retailer members. Most were added as a result of a member product request and that means that we have some happy members!
Hey, did you know that an additional benefit of our service is that we take product requests? If you are looking for something in particular, submit a request directly to the research team. Maybe next month we will add some suppliers for something YOU requested!
The Newly Added Dropshipper and Wholesalers Offer:
Dropship Leather Briefcases
Wholesale Brain Teasers
Large Volume Heat Transfer Vinyl
Wholesale Smart Watches
Dropship Laptop Cases
Wholesale Puzzle Toys
Dropship Travel Bags
Wholesale Activity Trackers
Large Volume Craft Supplies
Wholesale Eco-Friendly Cleaning Supplies
Dropship Christmas Ornaments
Wholesale Cleaning Cloths
Dropship Air Purifiers
Wholesale Kitchen Towels
Dropship Truck Storage Systems
Wholesale Vehicle Storage
Dropship Footbags
Wholesale GPS Tracking Pepper Sprays
Wholesale Hacky Sacks
Dropship Cookware
Wholesale Salt Lamps
Dropship Bakeware
Wholesale Chakra Jewelry
Dropship Kitchen Tools
Large Volume Pet Supplies
Dropship Natural Pet Snacks
Wholesale Fitness Trackers
Dropship Dog Treats
Large Volume Pet Treats
Wholesale Metaphysical Products
Dropship Air Filters
Wholesale Luxury Dog Collars
Dropship Smart Selfie Sticks
Wholesale Leather Dog Collars
Dropship Jewelry
Wholesale Cork Handbags
Dropship Recycled Jewelry
Wholesale Cork Yoga Mats
…and more!
If you are a member, Login today, to check out the newest additions.
Not a member yet? What are you waiting for?