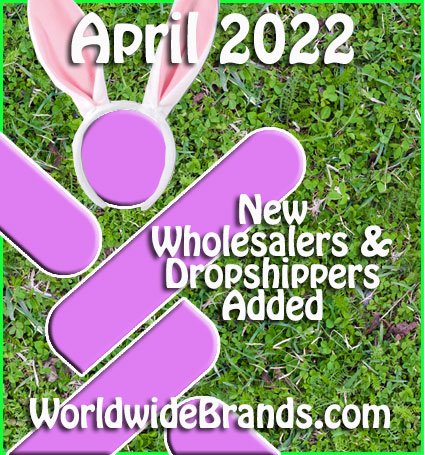 Summer is fast approaching! Is your online store ready for the summer holidays, events and beyond? One of the great things about our Wholesalers and Dropshipper Supplier Directory is that we are always adding new suppliers. So there is always something new to see for every season!
Behind the scenes we are contacting & re-contacting thousands of companies a month, looking for the best of the best suppliers and dropshippers, that will work with online only retailers. Our research team stays busy for YOU. For instance, need a supplier that will wholesale tin flower containers? Submit a request! Need a supplier that can dropship beanbag chairs? Submit a request!
So what did we add to the Dropshippers and Wholesalers Directory in April 2022? We added new wholesale & dropshipper suppliers, that together, offer a total SKU count of over 6,000 products!!
These suppliers are ready to work with our online retailer members. Above all, most were added as a result of a member product request and that means that we have some happy members!
Don't forget about those product requests if you are a member! If you are looking for something in particular, submit a request directly to the research team. We will certainly do our best to add some suppliers for something YOU requested!
The Newly Added Dropshipper and Wholesalers Offer:
Wholesale Organic Skincare
Dropship Key Organizers
Wholesale Hair Care
Large Volume Tablecloths
Dropship Pet Supplies
Wholesale Scented Candles
Dropship Dog Bowls
Wholesale Paint Kits
Large Volume Tents
Dropship Shoe Tattoos
Large Volume Bicycle Seats
Dropship Dog Training Tools
Large Volume Porcelain Dinnerware
Wholesale Paint By Number Kits
Dropship Pet Supplies
Wholesale Incense Sticks
Large Volume Electronic Targets
Wholesale Western Apparel
Dropship Natural Pain Relief
Wholesale Cowboy Hats
Dropship CBD Roll On
Wholesale Audio Cables
Dropship CBD Pain Creams
Wholesale Aromatherapy
Large Volume Camping Accessories
Wholesale Electronics Cables
Large Volume Coolers
Wholesale Women's Business Attire
Dropship Designer Shoelaces
Wholesale Women's Clothing
Large Volume Drinkware
Wholesale Access Panels
Large Volume Figurines
Wholesale Drywall Access Panels
Large Volume Baby Apparel
Wholesale Sheepskin Slippers
Large Volume Children's Clothing
Wholesale Sustainable Footwear
Dropship Dog Leads
Wholesale Tapestries
Dropship Multi-tools
Wholesale Bedding
Dropship Pet Toys
Wholesale Aroma Diffusers
…and more!
If you are a member, Login today, to check out the newest additions.
Not a member yet? Now is the time to get started!