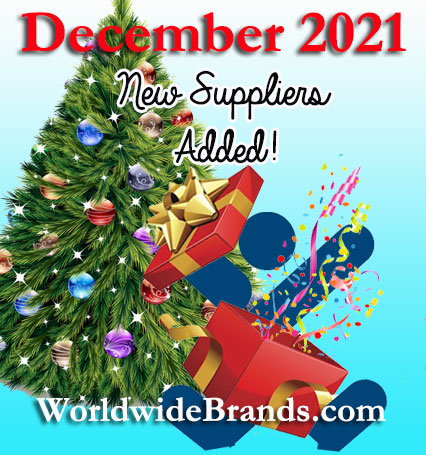 Every day we work hard on the Dropshippers and Wholesalers Directory. Behind the scenes we are contacting thousands of companies a month, looking for the best of the best suppliers, that will work with online only retailers.
Every month we are proud to summarize to our readers what we added the previous month. So what did we add to the Dropshippers and Wholesalers Directory in December 2021?
We added new wholesale & dropshipping suppliers, that together, offer a total SKU count of over 11,000 products!! Best of all these suppliers are ready to work with our online retailer members and most were added as a result of a member product request.
The Newly Added Suppliers Offer
Wholesale Wallets
Dropship Backpacking Jackets
Wholesale Hiking Jackets
Wholesale Tote Bags
Large Volume Cookware
Wholesale Gloves
Dropship 3D Printers
Wholesale Mobile Accessories
Dropship Submersible Pumps
Wholesale Hat Liners
Dropship Water Pumps
Wholesale Custom Silicone Products
Dropship Silicone Kitchen Utensils
Large Volume Women's Clothing
Dropship Silicone Baby Products
Large Volume Saddles
Wholesale Cat Toys
Dropship Pet Supplies
Wholesale Dog Toys
Large Volume Horse Tack
Dropship CBD Skincare
Wholesale Hemp Oils
Dropship CBD Edibles
Wholesale Women's Lingerie
Dropship SPF Clothing
Wholesale Clubwear
Dropship Binoculars
Wholesale Sun Protection Clothing
Dropship Bamboo Clothing
Wholesale Women's Sexy Clothing
Dropship Telescopes
Wholesale Dog Treats
Dropship Hunting Optics
Dropship Microscopes
Wholesale Pet Supplies
Dropship Pet Grooming Supplies
Dropship E-Bikes
Wholesale Pet Supplements
Dropship Dog Supplements
Wholesale Pet Health Care
Dropship Electric Bikes
…and more!
If you are a member, Login today, to check out the newest additions.
Not a member yet? What are you waiting for?