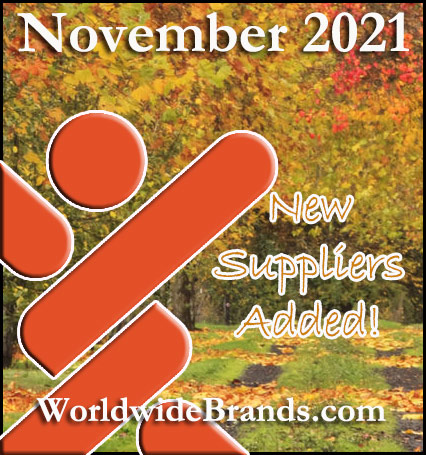 Every day we work hard on the Dropshippers and Wholesalers Directory. Behind the scenes we are contacting thousands of companies a month, looking for the best of the best suppliers, that will work with online only retailers.
Every month we are proud to summarize to our readers what we added the previous month. So what did we add to the Dropshippers and Wholesalers Directory in November 2021?
We added new wholesale & dropshipping suppliers, that together, offer a total SKU count of over 9,800 products!! Best of all these suppliers are ready to work with our online retailer members and most were added as a result of a member product request.
The Newly Added Suppliers Offer
Dropship Cold Press Machines
Wholesale Cloth Diapers
Dropship CBD DOG Treats
Wholesale Perfumes
Dropship Aromatherapy Diffusers
Large Volume Custom Fabrics
Dropship Essential Oils
Wholesale CBD Pet Products
Dropship Cat CBD Oil
Wholesale Natural Soy Candles
Dropship Furniture
Wholesale Candles
Dropship Marquis Diamonds
Wholesale Lab Grown Diamonds
Dropship Colored Diamonds
Wholesale Contemporary Furniture
Dropship Sofas
Wholesale Bed Frames
Dropship Dining Room Tables
Dropship Real Diamonds
Wholesale Lab Grown Diamonds
Dropship Earth Diamonds
Wholesale Firearms
Wholesale Gun Parts
Dropship Lab Grown Diamonds
Princess Cut Diamonds
Dropship Diamonds
Wholesale Baby Strollers
Dropship Pet Strollers
Dropship Baby Walkers
Large Volume Auto Parts
Dropship Rollaway Beds
Large Volume Pet Supplies
Dropship Bed Foundations
Wholesale Fashion Socks
Large Volume Home & Kitchen Products
Wholesale Socks
Large Volume Dog Grooming Products
Large Volume Furniture
…and more!
If you are a member, Login today, to check out the newest additions.
Not a member yet? What are you waiting for?