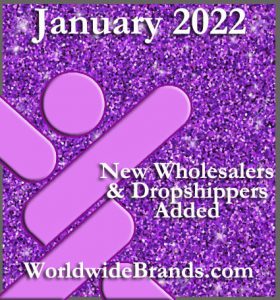 Another year has gone by so has another year of still continuing to add great wholesale suppliers to the Directory! Yes, we are always working hard on the Dropshippers and Wholesalers Directory for you! Behind the scenes we are contacting thousands of companies a month, looking for the best of the best suppliers, that will work with online only retailers.
We know you want to know… so what did we add to the Dropshippers and Wholesalers Directory in January 2022? Well, we are excited to tell you!
We added new wholesale & dropshipping suppliers, that together, offer a total SKU count of over 22,000 products!! Best of all these suppliers are ready to work with our online retailer members and most were added as a result of a member product request!
Another benefit of our service is that we negotiate with the suppliers for lower minimum orders. So we have added some GREAT new light bulk suppliers that usually have a minimum order of $1500 or more. They have agreed to $500!
The Newly Added Suppliers Offer
Dropship Perfumes
Wholesale Cubic Zirconia Jewelry
Dropship Fine Fragrances
Wholesale Wedding Rings
Dropship Wine Chimes
Wholesale Sterling Silver Jewelry
Dropship Toasting Bars
Wholesale Patio Furniture
Wholesale Bath Bombs
Dropship Lip Balm Holders
Wholesale Wood Signs
Dropship Handmade Gifts
Dropship Fireplaces
Wholesale Stationery
Large Volume Novelties
Wholesale Greeting Cards
Dropship Raised Garden Beds
Wholesale Bedding
Dropship Planters
Wholesale Curtains
Dropship Patio Heaters
Wholesale Greeting Cards
Dropship Rain Barrels
Wholesale Silk Scarves
Wholesale Wool Scarves
Wholesale Handmade Candies
Dropship Silver Rings
Wholesale Lollipops
Dropship Sterling Silver Jewelry
Wholesale Necklaces
Dropship Lamps
Wholesale Health Supplements
Dropship Home Decor
Wholesale Vitamins
Dropship Vases
Wholesale Outdoor Furniture
Large Volume Dog Training Collars
…and more!
If you are a member, Login today, to check out the newest additions.
Not a member yet? What are you waiting for?