Summer is almost here! Have you already seen all the BBQ's, Swimwear, Pool Toys and Outdoor Games the retailers have had out for months? That's because retailers plan what they will offer in their stores months and months in advance and will keep replacing things on the shelves in certain areas of the store as the year goes on.
You should always be planning ahead. Get out a calendar and start looking at dates that are relevant to your business and products you sell and start working in advance.
Haven't figured out WHAT to sell yet?
Here are some helpful articles:
Do Your Homework Before Deciding What To Sell Online
No, You Can't Get That Brand Wholesale and..
Picking a Niche is Important!

Wholesalers Added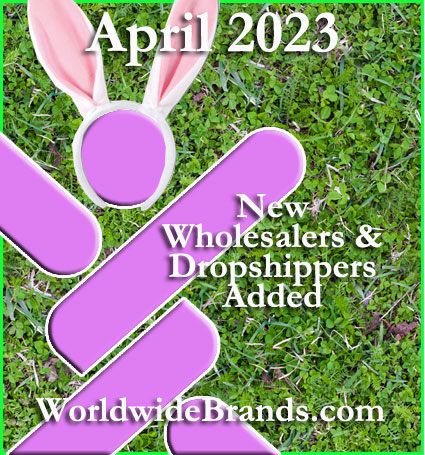 Now onto what we added to the WBI Certified Directory of Wholesalers and Dropshippers in April 2023! We added wholesalers that, all together, have a SKU count of over 18,000 products!
The Newly Added Dropshippers and Wholesalers Offer:
Wholesale Nuts
Dropship Vegan Belts
Wholesale Natural Foot Wipes
Dropship Cork Handbags
Wholesale Eczema Relief
Dropship Breathalyzers
Wholesale Pet Grooming Wipes
Dropship Ultrasonic Facial Devices
Wholesale Eco Friendly Office Products
Dropship Personalized Memorial Gifts
Wholesale Dried Fruits
Large Volume Musical Instruments
Wholesale Stretch Wrap
Dropship Pet Grooming Products
Wholesale Horse Curry Combs
and…
Dropship Silicone Toddler Tableware
Large Volume Candle Making Supplies
Dropship Dog Shampoo
Wholesale Floating Waterproof Phone Cases
Dropship Security Lighting
Wholesale Baby Products
Dropship Bubble Wrap
Wholesale Waterproof Phone Pouches
Dropship Giftware
Wholesale Car Jump Starters
Dropship Air Purifiers
Wholesale Women's Jewelry
Dropship Home Decor
Wholesale Auto Accessories
Dropship Wooden Handbags
and… 😃
Wholesale Greeting Cards
Dropship Aromatherapy
Wholesale Fashion Accessories
Large Volume Baby Clothing
Wholesale Handbags
Dropship Cookware
Wholesale Vinyl Stickers
Dropship Meat Thermometers
Wholesale Paper Goods
Dropship BBQ Thermometers
Wholesale Home Decor
Dropship Motion Sensor Lights
…and more!
If you are a member, Login today, to check out the newest additions.
Not a member yet? Now is the time to get started!