We had a great May! We added wholesale suppliers to the WBI Certified Directory of Wholesalers and Dropshippers that, all together, have a SKU count of over 30,000 products!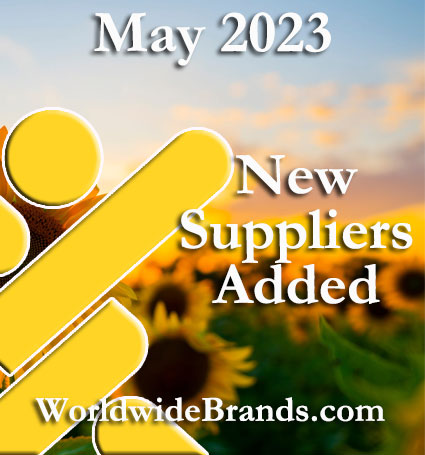 The Newly Added Dropshippers and Wholesalers Offer:
Wholesale CBD Supplements
Wholesale Cat Beds
Dropship Fashion Apparel
Wholesale Coconut Dinnerware
Wholesale Clothing
Dropship Women's Boots
Wholesale Eco Friendly Products
Wholesale Home Decor
Dropship Women's Shoes
Wholesale Cat Toys
Dropship Coffee Beans
Wholesale Hemp Gummies
and…
Wholesale Wall Planters
Dropship LED Lanterns
Wholesale Shepherd's Hooks
Dropship Garden Products
Wholesale Electric Tea Kettles
Dropship Wireless Speaker Lanterns
Wholesale Kitchen Towels
Wholesale Pet Rolling Carriers
Dropship Coffee
Wholesale Herbal Wraps
Wholesale Pet Carriers
Dropship Solar Lights
and… 😃
Wholesale Modular Backpacks
Wholesale Travel Bags
Dropship Golfing Products
Wholesale Minerals
Dropship Baby Sandals
Wholesale Fabric Gift Wrap
Dropship Children's Shoes
Wholesale Fossils
Dropship Wheelchair Electric Motors
Wholesale Stone Jewelry
Dropship Golf Cart Accessories
Wholesale Velvet Coloring Boards
Dropship Hippie Clothing
Wholesale Lingerie
Large Volume Home Audio
Wholesale Garden Products
Dropship Medical Supplies
Wholesale Pet Supplies
Dropship Pet Strollers
Wholesale Drinking Teas
Dropship Tie Dye Clothing
Wholesale Adult Toys
…and more!
If you are a member, Login today, to check out the newest additions.
Not a member yet? Now is the time to get started!