PRINT

Dropshipper Interview 5
Author: Tisha Hedges
Last Updated: 11/30/2018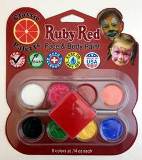 Meet Ruby Red Paints Inc. They have been a listed wholesale and
drop shipping
supplier with us since 2005! Get some advice about selling their products online.
Who they Are:
We have been in business for decades. We introduced full-face, face painting to North America offering the World's Safest and Easiest to use brand.
Product Line:
We sell the World's Safest and Easiest to use face paints. They are FDA compliant as a cosmetic & have a child toy safety rating. We have kits of all sizes for every need. We have retail kits that will paint five full faces to kits that will paint 3000 full faces. Our 8 color Rainbow Palette was selected by Dr. Toy as "One of the top ten most creative toys of the year."
Advice for Online Retailers:
If you carry the top 16 items on our wholesale price list they will sell year round strongly. Buy at the distributor level as that way you get your greatest discount.