January seemed to last forever and February just FLEW by! But it doesn't matter, we are still doing what we do day in and day out… FINDING REAL WHOLESALE SUPPLIERS for Online only Retailers!
The internet is filled with scams and fake opportunities that are created solely with one thing in mind…taking as much money from you as they can. So yes! You can still come across fake suppliers and wholesale scams online.
This is something we help our members avoid by only sharing information on legitimate businesses in our Directory. Plus, how wonderful is it to know that if you sell on your own website, pretty much every single supplier we list will work with you?!? #Facts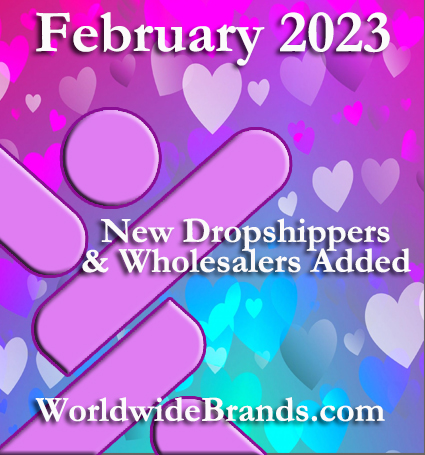 So what do the legitimate wholesalers we added to the Directory in January have? Well, we added suppliers that, all together, have a SKU count of over 10,000 products!
The Newly Added Dropshippers and Wholesalers Offer:
Wholesale Handmade Leather Handbags
Dropship Sportswear
Wholesale Men's Jackets
Dropship Touch Screen Purses
Wholesale Handbags
Dropship Artwork
Wholesale Smartphone Wallets
Dropship Western Art
Wholesale Collapsible Folding Wagon
Dropship LED Dog Collars
and…
Wholesale Utility Carts
Dropship Diecast Cars
Wholesale STEM Toys
Dropship Toys
Wholesale Drones
Dropship Self Cleaning Lint Brushes
Wholesale Pet Supplies
Dropship Pet Supplies
Large Volume Sanitizing Products
Dropship Lint Rollers
and… 😃
Large Volume Dog Chews
Wholesale Women's Clothing
Dropship Women's CBD Products
Wholesale CBD Products
Dropship CBD Pet Products
Wholesale Women's Shoes
…and more!
If you are a member, Login today, to check out the newest additions.
Not a member yet? Now is the time to get started!