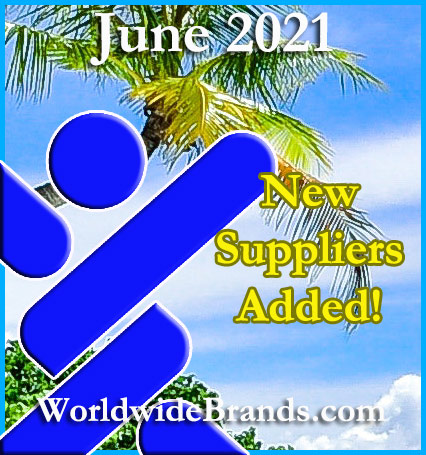 One of the best things about the Worldwide Brands Certified Directory of Wholesalers and Dropshippers is that we don't just list any company that says they dropship or wholesale.
We take each company through a verification process as well as research them before considering them for a listing in our Directory. Then on top of that, the supplier gets re-checked over for final decision. Our members NEVER have to worry about scam, fake or fraud suppliers!

We announce new products added on our social streams, but you can always get this monthly update on our blog or newsletter.
This is just a quick note to let you know what products the new Wholesalers and Dropshippers have, that we added the Worldwide Brands Directory of Certified Wholesalers & Dropshippers in June 2021.
For June we added 25 new suppliers, that together, offer a total SKU count of over 7,000 products!! Best of all these suppliers are ready to work with our online retailer members and most were added as a result of a member product request.
The Newly Added Suppliers Offer
Wholesale Fine Jewelry
Wholesale Protein Snacks
Wholesale Trendy Jewelry
Wholesale Shawls
Dropship Pocket Journals
Wholesale Protein Bars
Dropship Kid's Shoes
Dropship Men's Sandals
Dropship CBD Supplements
Wholesale Fun Socks
Dropship Soup Mixes
Dropship Dip Mixes
Dropship Men's Gifts
Dropship Barware
Dropship BBQ Tools
Dropship Lighting
Dropship Industrial Lights
Dropship Selfie Sticks
Wholesale Crew Socks
Dropship Home Healthcare
Dropship Medical Devices
Dropship Phone Camera Accessories
Wholesale Germicidal Lamps
Wholesale Time Lapse Cameras
Dropship Gem Water Bottles
Dropship Organic Supplements
Wholesale Dog Chews
Dropship High Chairs
Wholesale Baby Furniture
Wholesale Cell Phone Accessories
…and more!
If you are a member, Login today, to check out the newest additions.
Not a member yet? What are you waiting for?