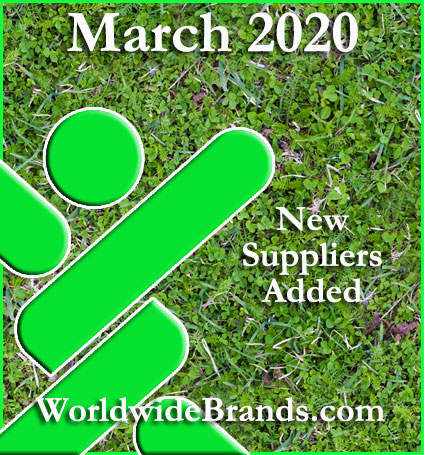 Finding new wholesale suppliers for our members is what we do! That's why we contact hundreds a day looking for the best wholesalers to certify and add to the Wholesaler & Dropshipper Directory.
This is just a quick note to let you know what we added to the Worldwide Brands Directory of Certified Wholesalers for the month of March 2020 for our members!
We added suppliers, that together, offer a total SKU count of over 12,00 products!
The newly added suppliers offer:

Wholesale Home Linens
Wholesale Family Games
Wholesale Ride On Horses
Wholesale Phone Charger Locks
Wholesale Handcrafted Wreaths
Wholesale STEM Toys
Wholesale Wedding Favors
Wholesale Luxury Dinnerware
Wholesale Aftermarket Auto Parts
Wholesale Eco Friendly Pet Supplies
Wholesale Gourmet Woodenware
Wholesale Laser Engraved Artwork
Wholesale LED Lighting
Wholesale CBD Oils
Wholesale Handmade Jewelry
Wholesale Piano Benches
Wholesale Handblown Glass Figurines
Wholesale Cell Phone Accessories
Wholesale Smoking Pipes
Wholesale Smoking Vaporizers
Wholesale Anti-Aging Skincare
Wholesale Bedding Sets
…and more!
If you are a member, Login today, to check out the newest additions.
Not a member yet? What are you waiting for?