Meet this Week's Featured Supplier: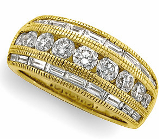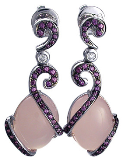 Who they Are:
A light bulk supplier of fine jewelry that has been in business for 7 years. As an extension of a 30 year old family run jewelry business, they saw the potential for online sellers to offer jewelry to the retail public, at a fraction of the cost they would pay in a traditional brick and mortar jewelry store. Since it's inception, they have had year over year growth & continues to be a leader in sourcing high end fine jewelry products to online retailers.

Product Line:
Offering diamond jewelry, gemstone jewelry, pendants, brooches and more --all at wholesale prices.

Advice for Online Retailers:
If you are selling fine jewelry online, our experience shows that the most effective way to succeed is by having a dedicated fine jewelry website and not mixing the jewelry website with other products, even if they are similar. Oftentimes we see customers trying to add more varieties of "jewelry-like" products like handbags, perfume, sunglasses etc. and this dilutes their websites, and makes selling fine jewelry more difficult.