PRINT

Dropshipper Interview 4
Author: Tisha Hedges
Last updated 11/13/2018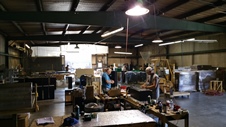 Viking Wholesale has been a listed supplier with us since 2012! We recently interviewed Sarah and this is what she had to say:
Tell us about the history of your company:
Viking Wholesale began over a decade ago out of a small retail shop based in Nashville, TN. As a retailer, we had many issues with other wholesale companies that would not notify me if or when an item shipped, if an item was in stock or currently on backorder and many other problems. My goal was to create a company that solved these issues for dealers and provided as much information to them so they could relay that to their end user. The result was Viking Wholesale. We have streamlined our checkout system so the dealers spend very little time during this phase. Our site offers multiple notification options such as re-stock alerts, low quantity alerts, new item notifications and many other time saving innovations. My frustration with some dropshippers resulted in, what I believe, creating one of the best dealer friendly companies in the field today. I hope you will take a look at what we have to offer...if we are successful, then you are successful. That has and always will be Viking Wholesale's main focus.
Give us some more info on your great product lines:
We carry trusted brand names prominent in an array of industries such as hunting and outdoors, collectible knives, collectible traditional Japanese replica katanas, machetes, and movie replica items. The product lines we represent include United Cutlery, Cold Steel, Boker, Musashi, Buck, Kabar, Camillus, Sog, Sky Jiro, and Kershaw among others.
How do your products differ from your competitors?
Viking Wholesale, one of the leading knife and sword distributors in North America, has been in business for over a decade. We take pride in our customers by offering highly competitive pricing, a wide variety of products, superior quality items, and same day domestic and international dropshipping. We offer highly competitive shipping rates for our
drop ship
orders and volume discounts for orders shipped domestically straight to our dealers. All of our products come directly from their manufacturer to us and quality is of great importance to us as well. We store all of our products in our on-site warehouse and ship daily using all major postal services.
Do you have any advice for online retailers that want to sell your products?
The advice we would like to offer our wonderful dealers is to remember to take advantage of our price-break discounts. If you can add the items to you order to get your total over $75.00 the shipping cost is covered by us, and you are free to pass your savings on to your customers.
What do you feel are the advantages of selling products online?
It will come as no surprise to anyone reading this newsletter that online retail consumer spending increased exponentially each year while greatly outstripping brick and mortar retail sales growth. Consumer preference to spend at brick and mortar storefronts is dropping off drastically, not only because this practice requires expenditure of travel time, but also because it ensures a more limited selection of goods and the elimination of competitive pricing. Selling products online puts you in the driver seat and allows your business to take advantage of the modern convenience and upward sales trends associated with ecommerce, as opposed to allowing yourself to become shut out of the race by more savvy competitors. When competition drives down profit margins, the edge that your business can achieve through operating and ecommerce business can mean the difference between lasting success or swift failure.
Do you have any testimonials from retailers already selling your products?
"Just a short note to say how pleased we are with the services provided by Viking Wholesale. As an online merchant, sourcing the right vendors is very important, and Viking Wholesale proved to be an ideal business partner. We have enjoyed excellent communication, great product selection, same day dropshipping, and their complementary Virtual Warehouse service has saved us from a lot of hassles. Keep up the good work." -Peter K.