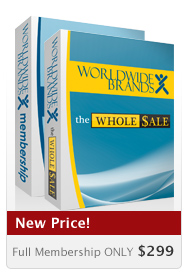 It's almost 2009. You may be thinking the New Year is the perfect time to start a new business. Or to give your struggling business a fresh start.
At Worldwide Brands, we believe ecommerce is the best way to beat the current recession. It's your ticket to self-sufficiency in the coming year.
So to help our entrepreneurs explode their ecommerce sales, we're offering the full Product Sourcing Package for the lowest price it's ever been.
With our new Recession Pricing, you've got all the product sources you need to turn a serious profit and stamp your bills PAID.
It's a New Year. So get in on our super-low recession price, and give your business the new start it deserves.