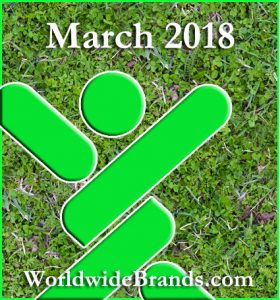 This is just a quick note to let you know what we added to the Worldwide Brands Directory of Certified Wholesalers for the month of March 2018 for our members!
We added suppliers, that together, offer a total SKU count of over 25,000 SKUS!
The newly added suppliers offer:
Wholesale Handbag Organizers
Wholesale Cell Phone Wallet Cases
Wholesale Luxury Skin Care
Wholesale Natural Food Supplements
Wholesale Horticulture Tools
Wholesale Pinup Style Jewelry
Wholesale Natural Soaps
Wholesale Lawn Sweepers
Wholesale Modern Wall Clocks
Wholesale Disposable BBQ Grills
Wholesale Even Linens
Wholesale Women's Fashion Clothing
Wholesale Bath and Body Products
Wholesale Workout Supplements
Wholesale Sterling Silver Jewelry
Wholesale Gardening Products
Wholesale 3D Printer Filaments
Wholesale Cowboy Boot Purses
Wholesale Eyeglass Cases
Wholesale Home Automation Products
Wholesale Pewter Viking Jewelry
Wholesale Baby Formula
Wholesale Home Decor
Wholesale Fashion Jewelry
Wholesale Hydroponic Systems
Wholesale Fashion Dresses
…and more!
Our members at WorldwideBrands.com, can setup notifications when we add new suppliers to categories that interest you. So take a look in your My Account area to set those up and then every time you login, you can see the newly added suppliers assigned to that category on the right side of the Directory.
If you are not a member yet, check us out today!
Tags: dropshippers, dropshipping, products to sell online, real dropshipping suppliers, real wholesale suppliers, supplier directory, what to sell online, wholesale directory, wholesale products, worldwide brands, Worldwide Brands Inc, WorldwideBrands.com