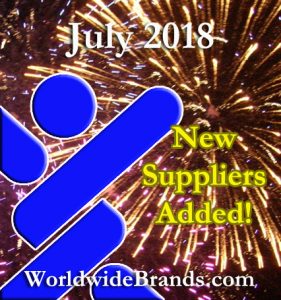 WorldwideBrands.com adds new wholesale suppliers to the Directory every business day! This is just a quick note to let you know what we added to the Worldwide Brands Directory of Certified Wholesalers for the month of July 2018 for our members!
We added suppliers, that together, offer a total SKU count of over 19,000 SKUS!
The newly added suppliers offer:
Wholesale Padlocks
Wholesale Gun Safes
Wholesale Weapon Accessories
Wholesale Children's Wetsuits
Wholesale Handcrafted Copper Mugs
Wholesale BBQ Grill Accessories
Wholesale Belly Dancing Clothing
Wholesale Natural Skincare
Wholesale Knives
Wholesale Body Shapers
Wholesale Cellular Signal Boosters
Wholesale Cookware
Wholesale Natural Bath Products
Wholesale Soccer Training Products
Wholesale Travel Accessories
Wholesale Natural Dog Treats
Wholesale Door Hardware
Wholesale Fitness Equipment
Wholesale Dog Supplements
Wholesale Auto Cargo Liners
Wholesale Children's Wagons
Wholesale Bath and Body Products
Wholesale Herbal Powders
Wholesale Hurricane Shutter Locks
…and more!
Our members at WorldwideBrands.com, can setup notifications when we add new suppliers to categories that interest you. So take a look in your My Account area to set those up and then every time you login, you can see the newly added suppliers assigned to that category on the right side of the Directory.
If you are not a member yet, check us out today!