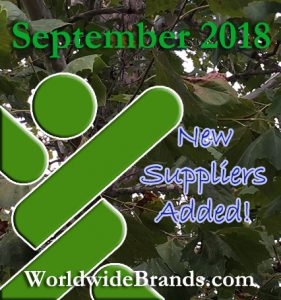 This is just a quick note to let you know what we added to the Worldwide Brands Directory of Certified Wholesalers for the month of September 2018 for our members!
We added suppliers, that together, offer a total SKU count of over 85,000 SKUS!
The newly added suppliers offer:
Wholesale Airsoft Guns
Wholesale Children's Clothing
Wholesale Sewing Notions
Wholesale Fetal Dopplers
Wholesale Custom Lamp Shades
Wholesale Business Signs
Wholesale Tactical Gear
Wholesale Liquid Supplements
Wholesale School Supplies
Wholesale Air Rifle Parts
Wholesale Emergency Alert Devices
Wholesale Bedding Sets
Wholesale Candied Nuts
Wholesale Fashion Pet Accessories
Wholesale Coffee Beans
Wholesale Personalized Gifts
Wholesale Sports Safety Gear
Wholesale Multi-device Charging Stations
Wholesale Electric Standup Paddleboards
Wholesale Curtain Panels
Wholesale Cookware
Wholesale Anti-Aging Products
…and more!
Our members at WorldwideBrands.com, can setup notifications when we add new suppliers to categories that interest you. So take a look in your My Account area to set those up and then every time you login, you can see the newly added suppliers assigned to that category on the right side of the Directory.
If you are not a member yet, check us out today!