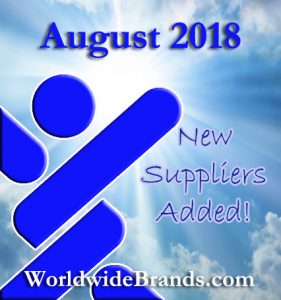 This is just a quick note to let you know what we added to the Worldwide Brands Directory of Certified Wholesalers for the month of August 2018 for our members!
We added suppliers, that together, offer a total SKU count of over 51,000 SKUS!
The newly added suppliers offer:
Wholesale Art & Crafts Supplies
Wholesale Cell Phone Skins
Wholesale Christmas Wreaths
Wholesale Patio Furniture
Wholesale Odor Eliminators
Wholesale Tactical Vests
Wholesale Autism Education Supplies
Wholesale Pepper Spray Bracelets
Wholesale Raw Honey
Wholesale Fashion Sunglasses
Wholesale Giftware
Wholesale Camping Dishes
Wholesale Gourmet Sea Salt
Wholesale Custom Printed Drinkware
Wholesale Yoga Mats
Wholesale Specialty Foods
Wholesale Vibration Platforms
Wholesale Organic Makeup Remover Pads
Wholesale Action Figures
Wholesale Vaporizers
Wholesale Sawhorses
Wholesale Funeral Home Supplies
…and more!
Our members at WorldwideBrands.com, can setup notifications when we add new suppliers to categories that interest you. So take a look in your My Account area to set those up and then every time you login, you can see the newly added suppliers assigned to that category on the right side of the Directory.
If you are not a member yet, check us out today!