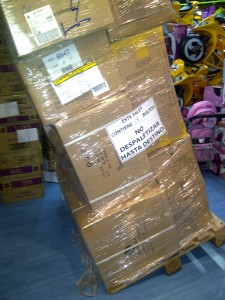 For the online retailer, closeouts present a tremendous opportunity to buy brand name items for less-than-wholesale prices. It's a billion-dollar-a-year industry that continues to expand, fueled by the growth of large retail chains.
Where Do Closeouts Come From?
Closeouts, refer to brand new merchandise at the end of its life cycle and can result from a variety of situations:
• A large chain store may order 100,000 items and cancel the last 20,000, sticking the manufacturer with that excess inventory.
• A retailer may refuse to accept large quantities of items due to small packaging mistakes.
• A factory may over-anticipate the demand for a product and be unable to meet their sales goal forecast.
In these situations, to move the extra merchandise, the manufacturer is usually willing to sell at deeply discounted prices.
Why Buy Closeouts?
No matter what your store sells, you can find complementary closeout items and benefit from their low prices. There are many obvious advantages to adding closeouts to your product mix:
• They provide high profit margins, which enable you to sell for hard-to-beat prices without losing money.
• They act as terrific promotional vehicles. You can use them as free gifts, fantastic bargains, featured items, or "loss leaders". These tools are especially effective for bringing traffic into your eBay store.
• They offer constantly-changing, fresh inventory to supplement your core products.
• They give you a reason to stay in contact with your customers. You're letting them know what new merchandise you have, rather than just saying, "Come back to my store" without giving them any incentive to do so.
Where Do I Find Closeout Dealers?
Tradeshows and gift shows are great places to find closeout suppliers, who often have representatives there. You can also find them online, but beware of middlemen. Investigate any company before transacting business with them. Find out about their minimums and payment terms. Even if they're legitimate, they may have purchase minimums that are out of your range, and you don't want to waste your time or theirs.
Some companies will allow you to buy quantities as small as one case pack, which enables you to try different products without putting a lot of money into any particular one. You can offer numerous items to your customers, and see what sells, with a minimal investment risk.
Closeouts are a great addition to your current product sourcing base. The fact that you're buying closeout merchandise at heavy discounts off of the original pricing allows you to be competitive with major retailers and still make a nice profit.