Meet this Week's Featured Supplier: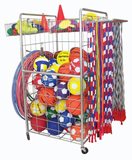 Who they Are:
Since 1954, Olympia has been manufacturing and distributing athletic, recreation, exercise, physical education equipment. We have now included school science & safety products!

Product Lines:
Whether you want to sell baseball equipment to your town's little league teams, traffic cones to local construction companies or microscopes online, Olympia can provide you with a price structure that is very competitive. On top of the wide selection of products you will have available to you, we drop-ship everything!

Advice to Online Retailers:
Drop shipping makes it possible for you to make money without the need for expensive overhead like a warehouse or shipping facility. Start out by selling some of our best sellers from our Olympia Sports catalog, then expand into our other catalogs for access to thousands of additional products!